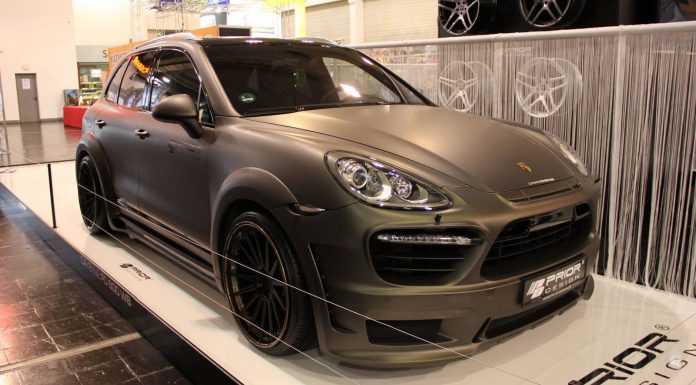 Tuners Prior Design certainly drew a lot of attention at this weekends 2013 Essen Motor Show. With three models on show the company certainly impressed. First up was the Audi R8 V10 Spider with the PD GT-650 package. Prior Design released the Audi R8 PD GT850 in September 2012. It's designed to give the road-legal Audi R8 a GT3-style makeover and it does exactly that. The tuner from Kamp-Linfort fitted an aerodynamic kit including new carbon side sills, wider wheel arches, a carbon roof scoop and a sporty rear spoiler, a set of 20-inch ADV.1 wheels and performance upgrades to this R8.
Next up on the stand was a car that is rather intimidating before it ever went under into the Prior Design workshop, the Porsche Cayenne. The kit comes with the PD600 front bumper and rear bumper which are then complemented by the PD600 side skirts. The front and rear also received PD600 widenings giving it the additional menacing look, this kit also comes with mounting material.
Last but by no means least on the stand was the tuners latest take on the Porsche Panamera, the PRIOR600. All the new exterior components featured on the Porsche Panamera PRIOR600 by Prior Design are made from Fiber Reinforced Plastic and are consequently very durable while not being outrageously expensive. The Porsche Panamera PRIOR600 by Prior Design includes a redesigned front bumper, rear bumper, side skirts, bonnet and rear truck spoiler. The car can also be optioned with a more expensive carbon fiber bonnet and carbon fiber rear trunk spoiler. We certainly approve!