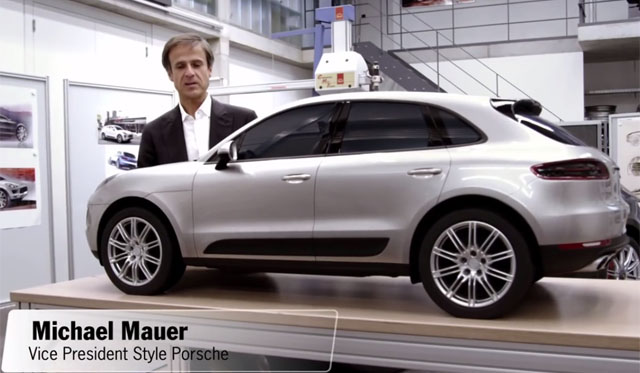 When Porsche introduced the Cayenne SUV, Porsche enthusiasts everywhere were up in arms about the dramatic departure from Porsche's past with the 911 sports car. What's more, the Porsche Panamera sedan then arrived a few years later to much controversy largely revolving around its styling.
[youtube]http://www.youtube.com/watch?v=xm3P2cgWLWY#t=26[/youtube]
Then at the Los Angeles Auto Show 2013 earlier this month, Porsche introduced the long-awaited Porsche Macan pinned as a more affordable and smaller alternative to the Cayenne. Featuring a very sleek design, Porsche has released the following video looking at the in-depth design process of creating the Macan. Porsche says that the new SUVs design incorporates the very best design elements from the brand's sports cars and race cars and calls the Macan the sports car of its class.
After one look at the spec sheet, it is easy to understand why. The base Porsche Macan S features a twin-turbocharged 3.0-liter V6 engine delivering 340 hp. This power is then sent through a seven-speed double-clutch PDK transmission transmitting power to all four wheels through the active all-wheel system featuring a multi-plate clutch. Consequently, the base Porsche Macan S can hit 96 km/h in just 5.2 seconds and a top speed of 251 km/h. The aforementioned acceleration time drops down to 5.0 seconds flat when the Macan is optioned with the Sport Chrono package.
Next, the 2014 Porsche Macan Turbo features a 3.6-liter twin-turbocharged V6 engine producing 400 hp at 6000 rpm. This power has been achieved thanks to the turbochargers running boost pressure of 17.4 psi. Consequently, the SUV will sprint from 0 to 96 km/h in just 4.6 seconds and a top speed of 263 km/h. When it is equipped with the Sport Chrono package the 0-96 km/h sprint drops to 4.4 seconds. Just like the standard Macan S, the Macan Turbo is fitted standard with the Porsche Doppelkupplung (PDK) transmission.