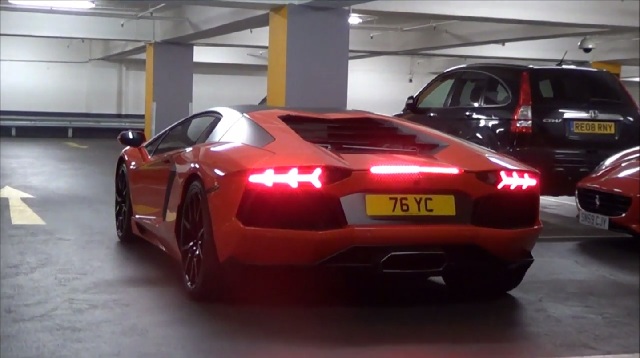 The Lamborghini Aventador is a great sounding car. Its exhaust note is loud, deep and aggressive, certainly enough to turn heads and excite bystanders who rush to catch a glimpse of the raging bull. This beautifully specked car in finished in a bright orange with the roof line and rear panels wrapped in matte black, completed perfectly with the latest design of Dione Wheels. We like! The car has been filmed in the famous department store Selfridges in London and the owner is happy to rev the cars engine in the car park where the sound echoes and resonates in all its glory!
[youtube]http://youtu.be/AGKgJM0gft4[/youtube]
Just to refresh your memory, the Aventador features a new 6.5 liter V12 engine that produces 700hp at 8,250rpm and 690Nm at 5,500rpm. Using thrust mode – Lamborghini's version of launch control – allows you to reach 100km/h in less than three seconds, 2.9 to be precise and 0-200km/h is done in a staggering 8.9 seconds flat. In the right environment you will keep accelerating all the way up to 351km/h and pull 1.3 G when braking from 100-0km/h. Phenomenal figures indeed!