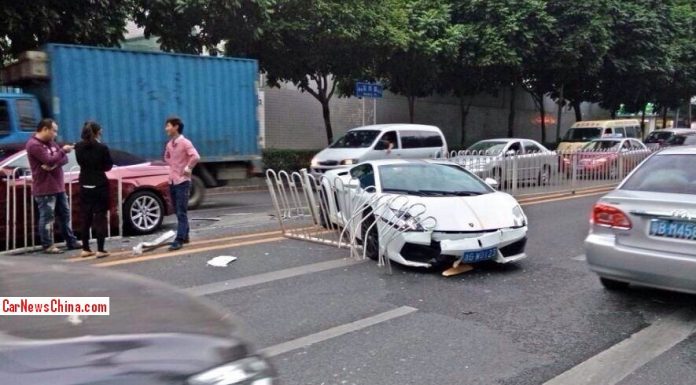 Unfortunately, a fairly rare Lamborghini Gallardo LP550-2 Valentino Balboni has been crashed in the Guangdong Province of China.
The crash is believed to have occurred as the Gallardo LP550-2 Valentino Balboni driver swerved to avoid the BMW 635i Convertible also pictured. As a result, the car speared straight into a fence dividing the road and has suffered serious damage to the front bumper.
Fortunately, the Lamborghini Gallardo owner escaped the crash uninjured as did the occupants in the BMW 6-Series. Furthermore, in the scheme of things, the Gallardo Balboni came out of the crash relatively uninjured too and will simply require a new front bumper to restore it to its former glory. It is fortunate for the Lamborghini owner that the road was divided by a fence rather than a concrete crash barrier like some cities around the world.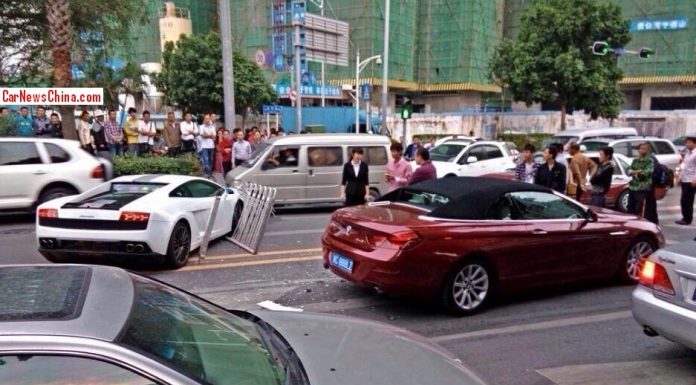 As a reminder, the Lamborghini Gallardo LP550-2 Valentino Balboni was built to honour Lamborghini's former chief test driver Valentino Balboni. It was the first Lamborghini in more than a decade to come with rear wheel drive which more than offset the drop of 10 hp bringing the new figure to 542 hp. Just 250 units of the Balboni were produced and thankfully, this example won't be resigned to the scrap yard.
[Via: CarnewsChina]