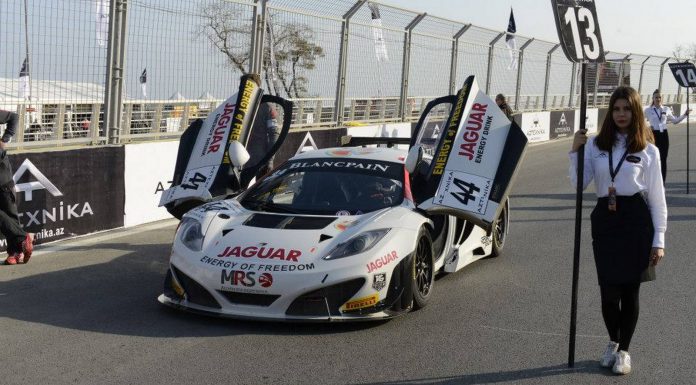 The main event of the FIA GT Series 2013 season, the Baku World Challenge went down this past weekend in what was a thrilling way to end the season. Belgian Audi Club Team WRT team with Stéphane Ortelli (MCO) and Laurens Vanthoor (BEL) took home the Pro Cup drivers title and they managed to qualify first and finish first during the main race.
Second in place in the Pro Cup category was Sebastien Loeb Racing with Parente and Loeb who finished third behind Hexis Racing McLaren MP4-12C of Rob Bell (GBR) and Kévin Estre (FRA). The Hexis team was later penalized thus promoting Loeb Racing into second position. HTP Gravity Mercedes SLS AMG GT3 finished fourth followed by GRT Grasser Racing Team Lamborghini Gallardo LP560-4.
The Audi teams showed resilience right from the practice sessions. Callaway Corvette could have probably taken a win too were it not for the early retirement it suffered. At some point in the race, the Boutsen Ginion McLaren MP4-12C and the Phoenix Racing Audi R8 LMS ultra were fighting for the lead, they actually had the right pace but this was short lived as both cars were slammed with drive-through penalties for track infringements.
In the Pro-AM category, the win went to GRT Grasser Racing Team Lamborghini of Hari Proczyk (AUT) and Dominik Baumann (AUT). Second in this class was the Novadriver team with their Audi R8 LMS followed by TDS Racing with their BMW E89 Z4 GT3. Another Lamborghini of ACL by Rodrive finished fourth in this class.
The Gentlemen Trophy class saw Federico Leo (ITA) and Claudio Sdanewitsch (DEU) in the AF Corse Ferrari 458 Italia take the win, followed closely by MRS GT Racing in their McLaren 12C GT3. The entire race was a success. The crowd was truly satisfied as it had been treated to a street parade earlier on.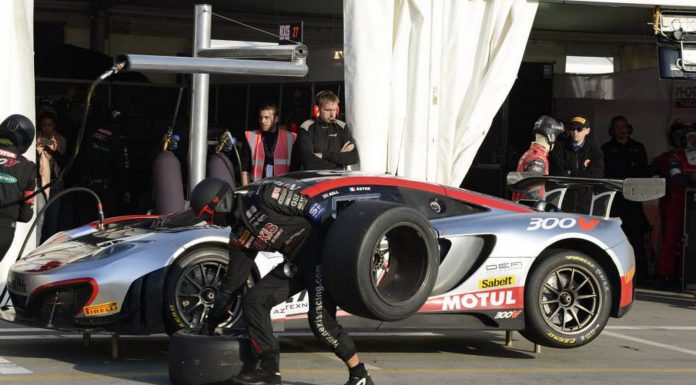 Drivers Quotes:
Stéphane Ortelli, Belgian Audi Club Team WRT – Audi R8 LMS Ultra #12 (Pro Cup)
First of all I think that I could have not done it without Laurens' speed and talent, I think that at his age I was far from being so good, so I really want to say thank you to him. I would also like to congratulate Belgian Audi Club Team WRT. I am just speechless, it is so nice to win the championship with WRT and Audi, and especially a race win at the end, I still cannot believe that we won that race. I am very happy.
Hari Proczyk, GRT Grasser Racing Team – Lamborghini LP560-4 #25 (Pro Am Cup)
It was a big surprise that we finished in 5th place overall today, but I am really happy that the weekend is over. After the poor qualifying and the first race, we did not expect this result. This is a very good team job today; my team manager told me that I was 30-40 seconds ahead of the Novadriver, so I was relaxed for the last 4-5 laps. Overall, I really would like to thank everyone because it all worked well, which is for me the most important thing of the weekend.
Claudio Sdanewitsch, AF Corse – Ferrari 458 Italia GT3 (Gentlemen Trophy)
I did not expect to achieve a good result in Baku because it was my first street race. I tried to stay out of trouble at the start of this race, because it was a mess. I knew that I had about ten cars behind me. I tried to overtake but also to stay out of troubles and I managed to do that very well and was able to give the car to Federico (Leo) after the Safety Car period. Unfortunately I was blocked in the pit lane entry, behind a car that was stopped, and I was not able to go around it so I lost about 15 seconds because of that. It is a shame because we could have been in the top 10 again after Navarra in September but I am still very happy with the team effort this weekend.