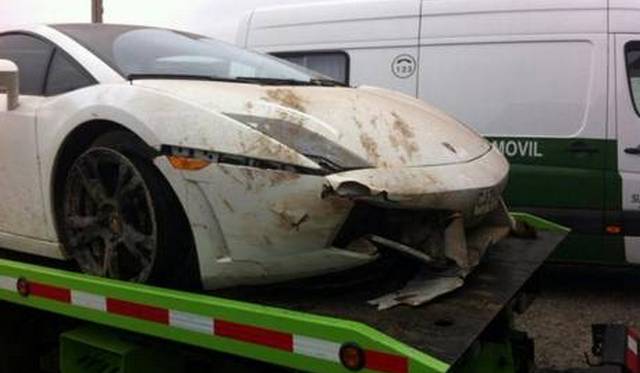 Chilean Football striker for the Colo-Colo club Felipe Flores is believed to have crashed the following white Lamborghini Gallardo LP560-4 owned by businessman George Otto.
The crash is said to have occurred in the early hours of Sunday morning where Flores was lent the expensive Italian supercar by Otto. It is currently unclear how the crash occurred, but it is believed that Flores could have been under the influence of alcohol at the time of the crash.
Initial reports about the crash suggested that the Lamborghini Gallardo LP560-4 was owned by fellow footballer Arturo Vidal. However, it was quickly discovered that Vidal sold the vehicle to George Otto recently.
The damage sustained to the Gallardo LP560-4 is quite severe with the front-end, and in particular the front bumper destroyed while the front tyre has half slipped off the wheel. Additionally, the rear of the vehicle has sustained some minor damage. Fortunately for owner George Otto, the damage seems repairable which means he'll soon to be able to enjoy it's full performance potential.
As a reminder, the Lamborghini Gallardo LP560-4 is powered by a 5.2-liter V10 engine producing an impressive 552 hp. Consequently, the Gallardo LP560-4 is quite a bit faster than the original first-gen Gallardo and can hit 100 km/h in just 3.7 seconds!
[Via Ferplei]