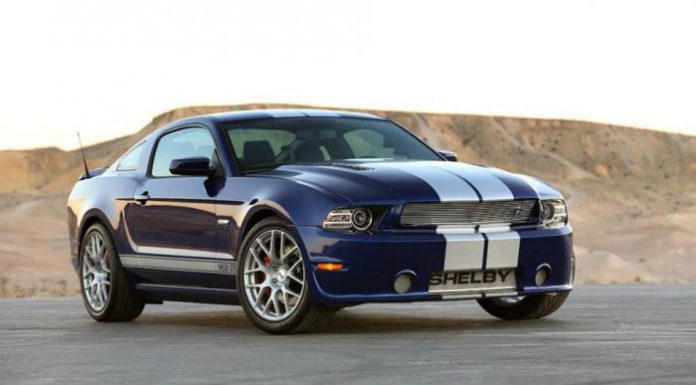 Ahead of the 2015 Ford Mustang's online debut on December 5th, Shelby American has just taken the wraps off the brand new 2014 Shelby Mustang GT at the ongoing Los Angeles Auto Show 2013.
Available in a selection of different tunes, the 2014 Shelby Mustang GT features a host of visual changes largely revolving around the tweaked front end. This new front fascia sees a new front bumper, billet grille as well as a lightweight fiberglass hood. Additionally, the 2014 Shelby Mustang GT features a 20-inch alloy wheels complete with BFG G-Force Comp2 tyres.
Apart from these visual changes, most of Shelby's attention has been focused on improving the performance of the regular 2014 Ford Mustang GT. Starting these changes off is a new short shifter and a new Ford Racing suspension system.
Under the hood, the base Shelby Mustang GT features a 5.0-liter V8 engine with a new air intake and sports exhaust system. This results in a modest increase of 10 hp lifting peak power to 430 hp. Next in the Shelby Mustang GT range is the GT/SC which features a new supercharger helping to lift peak power up to 525 hp and in top-tune, an insane 624 hp.
When optional with the 624 hp system, the 2014 Shelby Mustang GT will sprint to 96 km/h in just 3.7 seconds and is capable of completing the quarter mile in the mid-11 second range.
The base Shelby Mustang GT pack costs $14,995 while the most potent starts at $27,995.