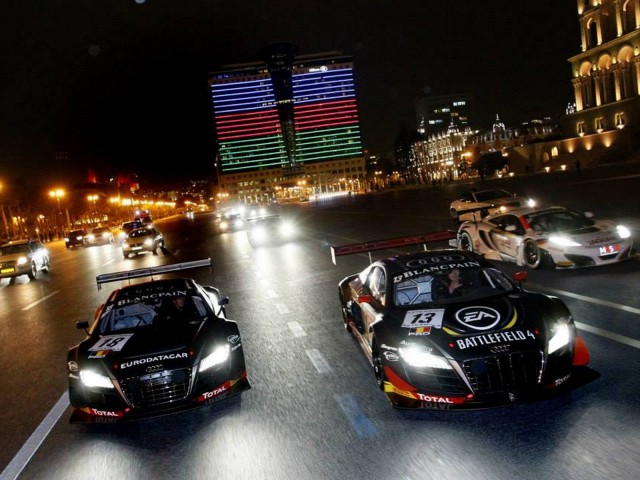 Finally, the Baku World Challenge 2013 kicked off last night with the customary street parade. An amazing moment not only for the photography work but the streets were also glittered with 28 GT cars sending a thrill to all the spectators who were lined up for the grand finale of the FIA GT Series 2013.
The main race will take place tomorrow, there will be two free practice sessions followed by two timed qualifying sessions and that will be it for Saturday. Sunday the 24th of November will see the qualifying race ahead of the main race later in the day. For now, enjoy these photos taken by Eric Fabre and V-Images.
So far so good from the FP sessions, WRT Audi teams are showing stiff competition as they have maintained the lead for most part of the first session. Phoenix Audi Team is also playing in the top 5, Loeb Racing McLaren had a successful race back in Spain after scooping a win, they are also doing well in Baku, its still early to make any predictions especially seeing that veterans like HTP Mercedes team is quite slow in the practice session.