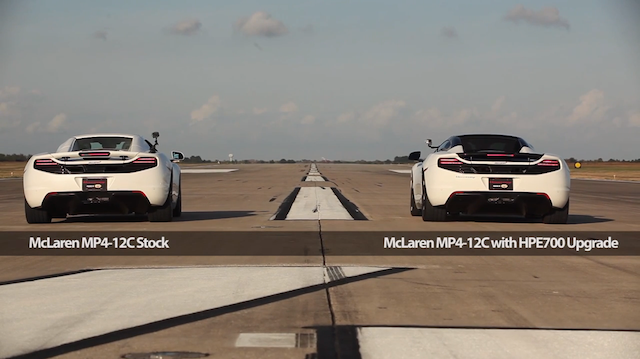 American power junkies, Hennessey Performance, have been busy applying their ludicrous HPE700 kit to the McLaren 12C Spider. The McLaren 12C is a spectacularly fast car. It's one of the greatest cars we've ever driven and the Spider is even more exciting! However, if your 12C is not quite fast enough and you're the kind of person that has more adrenaline than blood pumping through your veins then you might start looking at other options. An insane 616hp from a 3.8-liter twin-turbo V8 results in 0-100km/h in 3.1 seconds surely must be enough? Well if it is not, then you either need to purchase a rocket or maybe a HPE700 McLaren 12C Spider!
[youtube]http://youtu.be/khy-_fdPfrM[/youtube]
Here is a clip of Hennessey's 12C Spider fitted with the HPE700 kit that means this car produces a staggering 707hp. As you can the, the results of this increased power certainly are potent!
GTspirit Drive The 12C Spider: