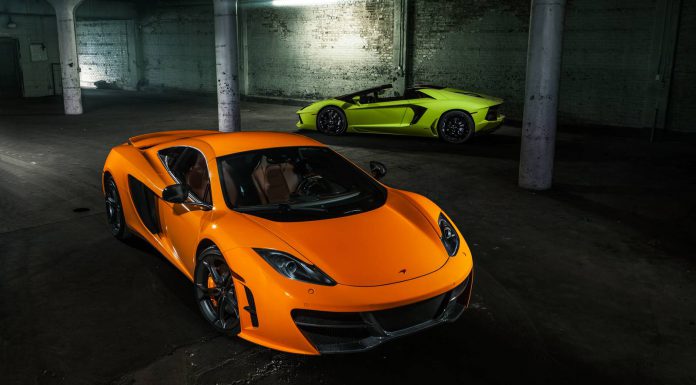 RevoZport recently unveiled their awesome bodykit for the McLaren 12C with it featuring a host of aerodynamic and visual upgrades compared to the standard 12C. Already, a McLaren 12C fitted with that epic bodykit was recently apart of the following stunning gallery from Jeremy Cliff Photography.
As you can see, the orange 12C is pictured alongside a very rare and very bold Verde Scandal Lamborghini Aventador Roadster. While these two brand new supercars both look insanely aggressive and ferocious, from a performance and driveability standpoint, they are vastly different.
The McLaren 12C can be considered as more of an everyday supercar with the performance to topple some of the world's greatest. By comparison, the Lamborghini Aventador Roadster is far more performance oriented and it tells with its 6.5-liter, 692 hp V12 engine rocketing it from 0-100 km/h in just 2.9 seconds and a top speed of around 350 km/h!
For those interested in the full run-down of the RevoZport RHZ kit for the 12C, here it is: RevoZport is offering an all-new front bumper incorporating a new carbon fiber front lip for the British masterpiece. This part costs $7900 and is similar to the MSO front bumper offered by McLaren. Also available to enhance the appearance of the 12Cs front end are a pair of race inspired canards.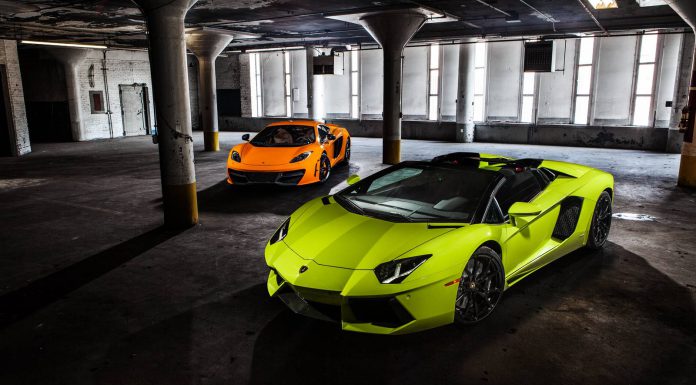 Next are a set of lightweight carbon fiber side skirts costing $2900. RevoZport then offers a carbon fiber rear tunnel and rear diffuser similar to the standard unit found on the 12C. That'll set you back $3500. Joining this rear diffuser is RevoZport's own RHZ rear tunnel made of course from carbon fiber and costing $3900.
See even more of the features in our previous post!