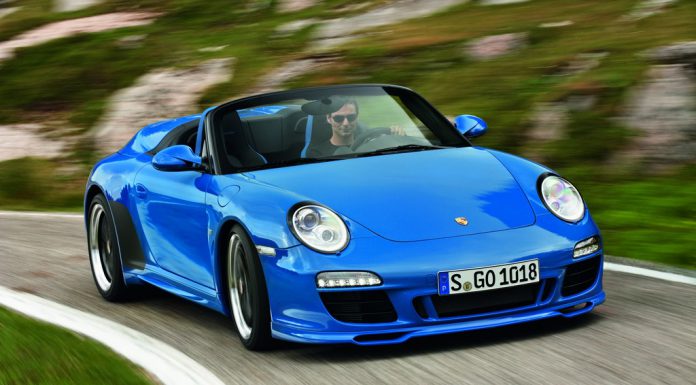 A few years ago, Porsche released the stunning 997-generation based Porsche 911 Speedster. Featuring traditional Speedster styling, the car was a true head-turner and completely drop-dead gorgeous. Well with the 997 911 now replaced with the 991 911, reports have emerged suggesting that Porsche is planning another 911 Speedster.
According to reports from German publication Auto Bild, Porsche is prepping a new 911 Speedster set to arrive in early 2015 and built as a tribute to the original Porsche 550 Spyder.
2011 Porsche 911 Speedster

Consequently, the 991 Porsche 911 Speedster could be even more sleek than the previous-generation car and feature hidden door handles, a smaller windscreen as well as a fabric roof to be used sparingly. When retracted, that roof will hide under the dual carbon fiber Speedster humps.
The 2011 Porsche 911 Speedster didn't just feature revised styling when compared to the standard Porsche 911 Carrera S, it also featured an uprated engine. In fact, its tuned 3.8-liter flat-six delivers 408 hp which is the equivalent of 23 hp more than the standard 911 Carrera S. Consequently, we can expect to see similar power gains in the 991 911 Speedster.
In Germany, the 2011 Porsche 911 Speedster cost just over 200,000 euros. The new model is likely to cost just that little bit more.
[Via Autobild]