SEMA, which stands for Special Equipment Manufacturers Association, is a show that annually occurs either at the end October or the beginning of November. The show vitalizes Las Vegas for the week with a surge of visitors in the neighbourhood of 130 thousand registered SEMA attendees from across the world. The show in itself is an outlier compared to all other shows of it's magnitude. With considerations of sheer number of attendees, one could easily assume it's open to the public, but it's not. The show is strictly for those that work in the automotive industry.
I arrived late to Las Vegas late Thursday night due to conflicts with my class schedule. After a long night of partying with some of the SEMA attendees and exhibitors, I rolled out of bed early Friday morning with two hours of sleep to attend SEMA for the first time.
Conveniently for me, every detail of the show had been considered, including transportation for the attendees. A web of bus routes, running like clockwork in 20 minute intervals, sprawls across Vegas to every major hotel to pick up attendees and bring them to the show.
Convenient shuttle busses from the hotels to SEMA grounds
Upon entering, I noticed a number of peculiar things. SEMA is separated in to 4 main hall, each occupied with hundreds of exhibitors. I didn't fully grasp the size of the show till I was actually walking through the labyrinth like exhibition halls. The exhibition halls are generally grouped in subcategories- rims and tires, trucks and off-roading accessories, American muscle and rat-rods…etc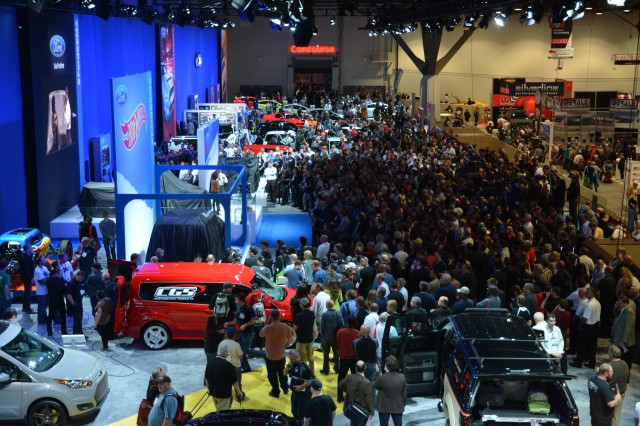 Ford had one of the biggest booths at this year's show
SEMA wields an amount of influence shared by only the top tiered automotive events. Celebrities are sprinkled through the four day show. The likes of Hollywood entertainers, professional drifters, and import models grace the show floor.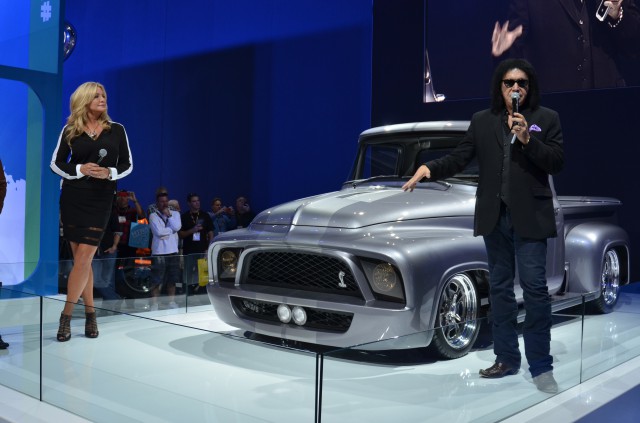 Kiss guitarist Gene Simmons and wife Shannon Tweed next to one off Snakebit Ford F100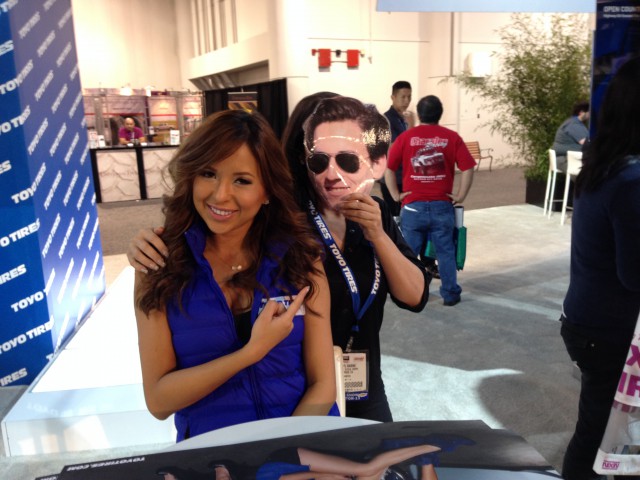 Toyo Tire spokesperson Claudia Alan with GTspirit writer "Maarten"
One thing I noticed throughout all of the halls was a heavy presence of foreign exhibitors especially from China- no matter the industry. Similar to most goods the world consumes, a substantial amount of automotive goods are manufactured in China.
Chinese manufacturers are eager to seal lucrative contracts with Westerners as the Chinese know westerners are constantly looking to innovate in design and compete on costs. With the appeal of thousands of potential buyers, it's to no surprise the draw SEMA has to overseas manufacturers. The contracts ranged from manufacturing titanium nuts, to turbos, to rims, to moulds for wheels. One last note on the Chinese manufacturers was that their booths were all very similar in that they were generic compared to companies from elsewhere around the world. The presentation in some ways look like really good high school science fair stall.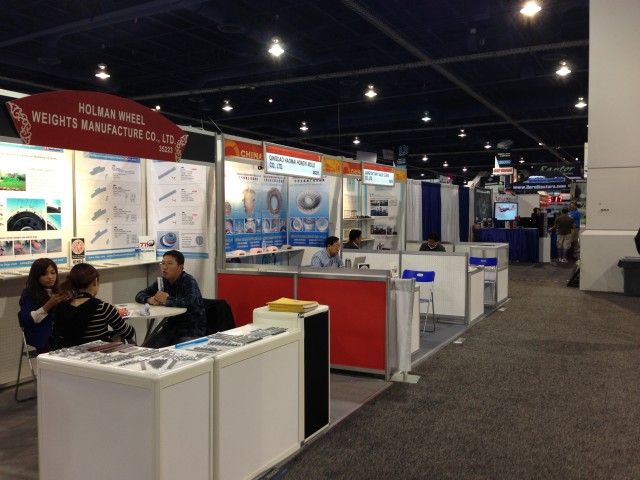 Some of the Chinese manufacturer's generic booths at SEMA
Another oddity, at least for a guy from Vancouver, Canada, was the sheer amount of ridiculous rims that were for sale. I'm not talking about just chromed out rims, I'm referring to psychedelic 24 inch skittle-coloured rims. Locally in Vancouver, I see plenty of ADV.1, Vossen, HRE, BBS… etc. At the show, there were companies I've never heard of, which is not a surprise in itself, however, I've yet to see any of the following rims or rims similar to these on the road.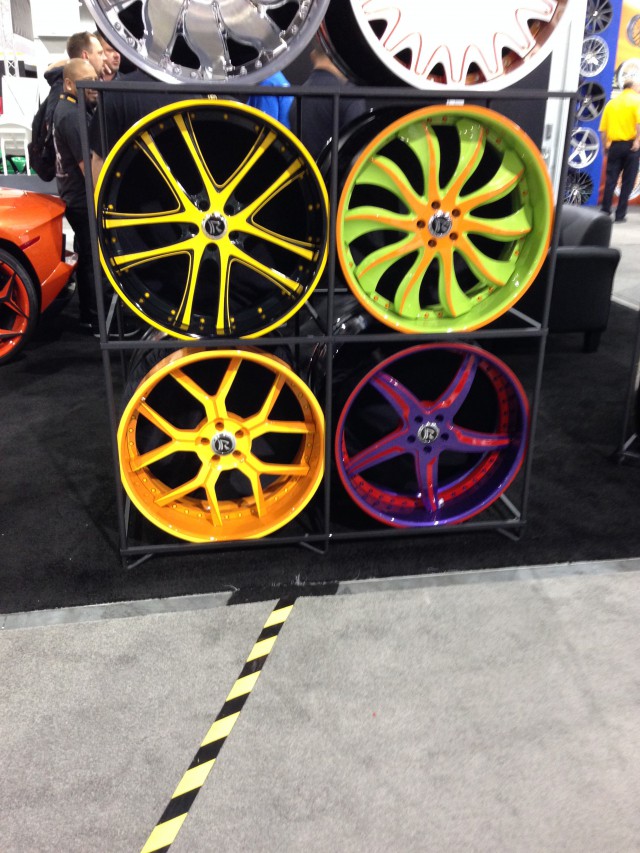 Some of the very unique rims offered at SEMA
"Unique" cars to match the "unique" rims
The show in general had a lot to offer no matter the section as there were exotic cars at most booths. Customized exotics included RWB Porsches, Lamborghini Aventador 50th Anniversary Editions, Ferrari F12s and many more. The Liberty Walk 458 kit garnered a lot of attention, and rightfully so. Vorsteiner also drew a big crowd with their sleek active wing kit. Check the gallery below to see some of the highlights.
The rest of the show was a blur as there were live DJs hosting dance parties, elaborate lighting schemes, and even complimentary booze at some of the booths. Although the show was fully closed off from the public, there were miniature shows and demonstrations outside of the show.
DUB, hosted a small show right outside the cafeteria.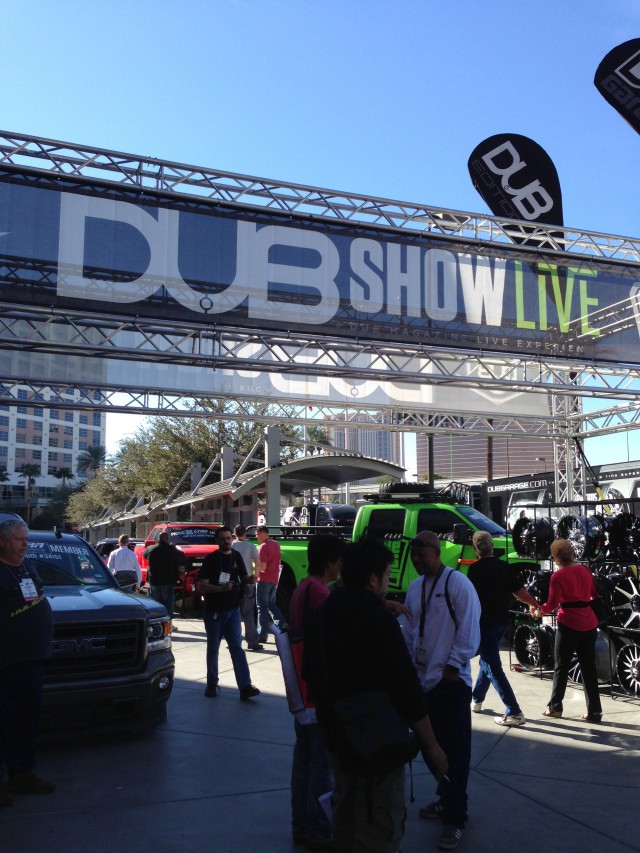 One of the public events outside of SEMA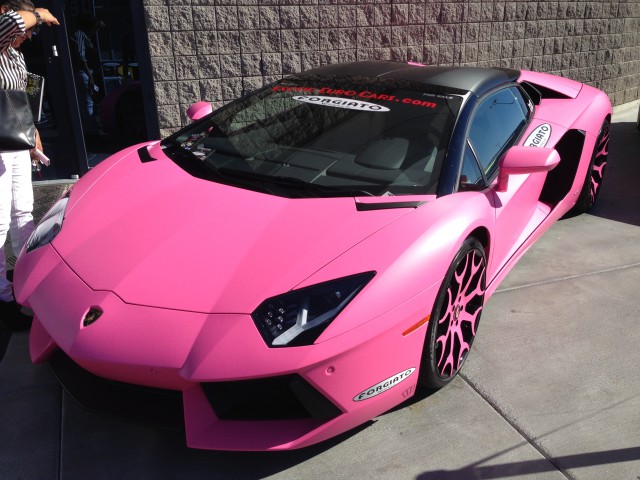 Nicki Minaj's pink Lamborghini Aventador on display with Forgiato at the Dub Show
One of the most customized Corvette Stingray at SEMA
Ford closed off an entire parking-lot in order for their superstar drifter, Vaughn Gittin, to do demonstrations.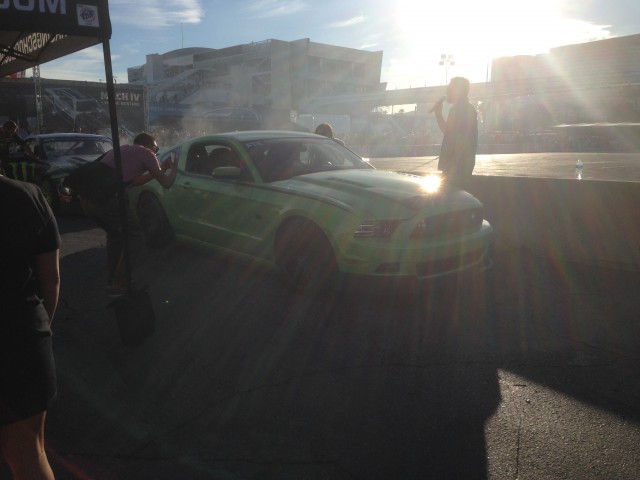 Vaughn Gittin getting ready to do some drifts at the Ford demonstration lot
The only real complain I have about the show is that it's too short. Given that I did arrive late to the show, a number of attendees expressed how it would take them an entire day to barely get through one single hall. I'll make it a point to arrive on time next year to the show in order to make the most of this festival.