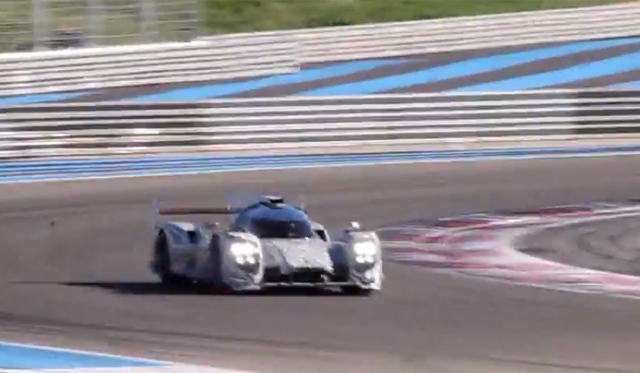 It is no secret that Porsche is currently developing its 2014 LMP1 car. Up until this point, Porsche has only revealed a couple short videos of the racer testing on the track with some heavy background music muting its exhaust growl.
However, a lucky YouTuber recently spotted the 2014 Porsche LMP1 testing at Circuit Paul Ricard in the heart of France. While the prototype isn't at full throttle during the clip and even though the camera is very shaky, this video does give us our first chance to hear the Porsche Le Mans Prototype roar.
[youtube]https://www.youtube.com/watch?v=T-Oya-HVoLY[/youtube]
Porsche will enter the 2014 FIA World Endurance Championship with two LMP1 racing cars. This comes after months of development with Le Mans 2014 being their major concern. Next year's FIAWEC calendar has eight races and Porsche has planned for three drivers per car.
Currently Timo Bernhard (Germany), Romain Dumas (France) and Neel Jani (Switzerland) are already in the testing and development programme with Australian Mark Webber expected to join the team by 2014. Meanwhile, German driver Marc Lieb of the Porsche works from the GT programme and young New Zealander Brendon Hartley are set to take part in the testing programme.
Porsche have not competed at Le Mans since their overall win in 1998 with the 911 GT1-98. Attempts were made after failing to return in 1999 where a Porsche LMP car was created to race in the 2000 season. Porsche cancelled it citing that it would rather use the funds for the Cayenne SUV. However, despite missing Le Mans for over a decade, Porsche has been active in the GT3 and GT2 classes with the 911s.
Porsche is not new to Le Mans; they had their first overall win in 1970 and 1971 with the Porsche 917 race car. The Porsche Austria team of Hans Herrmann and Richard Attwood gave it their all. In 1996 Porsche had their 14th win at Le Mans with the WSC race car powered by a 3-litre flat-six engine with 2 turbochargers and a power output of around 550 hp. At only 22 years of age, Alexander Wurz became the youngest winner in the history of Le Mans.