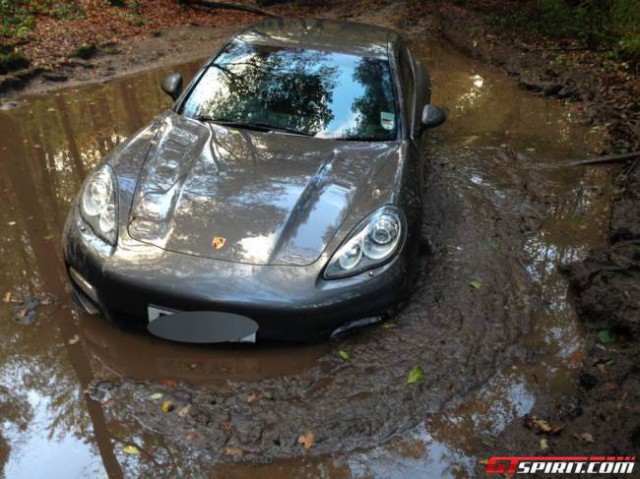 The Porsche Panamera Turbo is a very capable and effective GT car that is one of the best cross-continent cruisers on sale today. Its remarkable 4.8 liter, twin turbocharged V8 produces an incredible 516 lb/ft of torque and a massive 500bhp. The all-wheel-drive systems mean that all the power and torque are potently transferred to the road with tenacious traction.
However, as you will see, that does not mean the Turbo is any good off-road. 20-year-old England under 21 football captain, Andre Wisdom, found out the hard way. After a last minute shopping trip (as you do), Mr. Wisdom opted to use his satellite navigation to guide him to the Derby County's stadium but was guided into huge bog of mud where the power, torque and all-wheel-drive system was all but useless!
Having been rescued by members of staff from his club Mr. Wisdom made it to the match on time, better can be said for his luxurious Panamera that is literally, stuck in the mud! This is not the first occurrence where SatNav systems have led drivers into trouble and we are sure it certainly will not be the last!
GTspirit were recently invited to the UK to test the latest iteration of the Panamera, including the fantastic Turbo and had no such troubles. Read about our test here.
[Via: Metro]