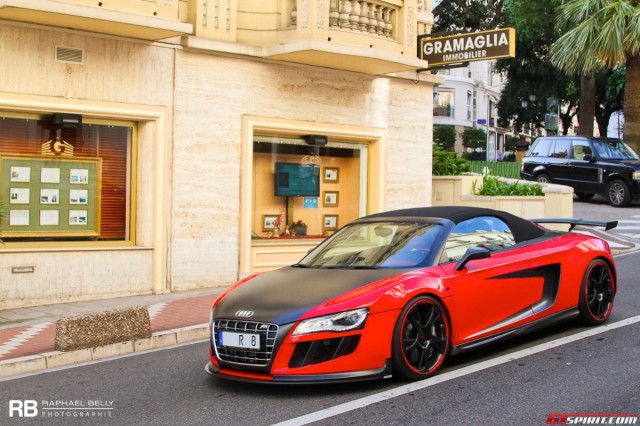 The Audi R8 V10 Spider is a very capable car. It is refined and supple yet will howl and bellow in tunnels and the 2009 car, that has now been updated, builds builds most of its power above 4,500rpm and tops out at 525 horsepower at 8,000rpm and 391lb-ft of torque at 6,500rpm. The maximum top speed is set at 303km/h (194mph), a little less than the Coupé. 100km/h (62mph) passes by in a eye-watering 4.1 seconds. But what if you want a more hardcore R8? Meet tuners ABT!
This particular model from the ABT line is the ABT R8 GTS. The R8 GTS is a heavily modified version of the Audi R8 Spyder and is powered by a 5.2-liter V10. The normal Audi R8 V10 Spider produces 525hp while ABT's R8 GTS produces a menacing 620hp which rockets it from 0-62 mph in just 3.6 seconds. ABT fitted the R8 GTS with a new sport exhaust which produces a louder sound and also increases performance.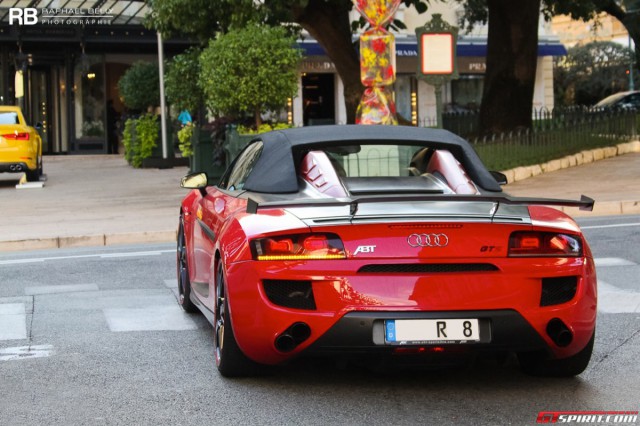 As seen in pictures, ABT added many exterior appearance modifications such as a carbon fibre hood, new 20″ wheels, a new spoiler, new mirrors, and many other modifications that make the car stand out from a normal Audi R8 Spyder. Although, ABT did not forget about the interior. Inside the car, they've added a red carbon fibre steering wheel while the center console and parts of the door are dressed in stunning red exposed carbon.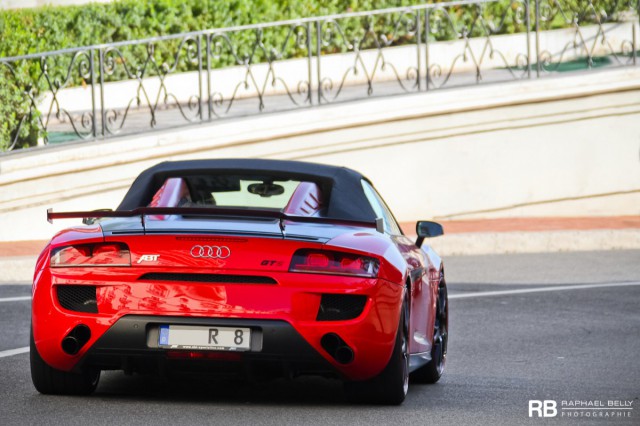 This car was seen in Monaco, and was captured by Raphael Belly Photography.