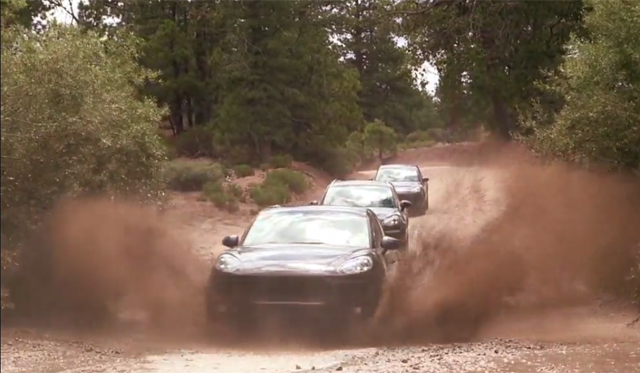 Following on from the high-octane video which was recently released showcasing the 2014 Porsche Macan testing in the deserts of the Middle East, Porsche has released a new video demonstrating the car's recent testing regime in California.
This video highlights a selection of normal highway driving in a group of Porsche Macan prototypes, with the cars also venturing into the mountains for some full-on off-roading. Once again, the Porsche Macan showcases its sand driving abilities just like it did in the Middle East!
[youtube]http://www.youtube.com/watch?v=DUbH2ZQ_-Oo#t=48[/youtube]
If it isn't already clear, Porsche have chosen to use a Volkswagen group platform, the Audi Q5 for their lower value SUV. Despite the lower price tag it will feature all the classic Porsche refinements. It will get all-wheel drive, an impressive interior and a fantastic engine. Development has taken a relatively short 3 years.
Macan gets air suspension, optionally supplemented by an electronic damping control and customers will be able to spec a controlled differential lock on the rear axle if they wish.
At launch, the Porsche Macan Turbo will feature a top of the range 3.6 litre V6 turbocharged engine with 400hp whereas its diesel alternative, the Porsche Macan S will get a supercharged 335bhp and 339lb 3.0 litre V6 whist the Diesel S will feature a 254hp and 428lb-ft turbocharged engine. A choice of either a standard six-speed manual or optional seven-speed dual-clutch automatic gearbox will be made available, steering is electro-mechanical. It seems that those wanting a four-cylinder engine will have to wait a little longer!