McLaren Zurich chose to use the Zürich Motor Show to present one of the very first McLaren 12C GT Sprint production models! Our friend and photographer David Kaiser managed to snap a few photos of it on display at the stand. We're told that this car is one of the very first production cars and that the car presented at the Goodwood Festival of Speed 2013 was a pre-production version.
The Zurich Motor Show is of course Switzerland's second biggest motorshow. It is the 27th time that the event has been held and, whilst it isn't the biggest overall, it is the biggest in German-Speaking Switzerland!
The idea behind the McLaren 12C GT Sprint is to create a track-day tool which owners will be able to use at race tracks. It doesn't conform to any of the strict regulations for racing series so don't expect to see it winning any titles. Yet the idea is to provide owners with a fun track-day tool.
As such, the bodywork closely resembles the McLaren 12C GT3 car which has been campaigned extensively in race series around the world. It gets a carbon fibre rear spoiler, a new front splitter, air vents above the wheel arches and a new front bonnet. It really does resemble a standard McLaren 12C with a few choice parts from the GT3 model!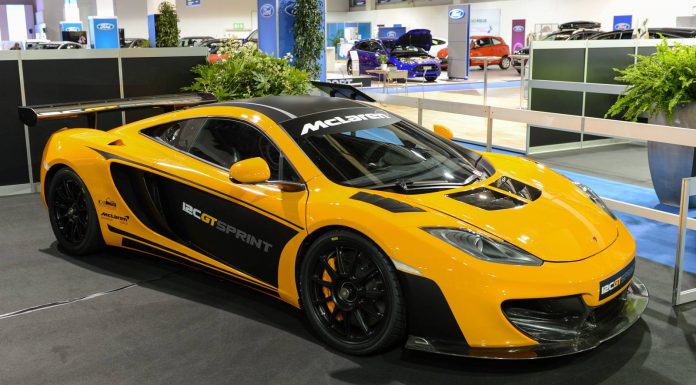 Under the McLaren 12C GT Sprint bodywork, owners will get the familiar M838T 3.8-litre twin turbo V8 powerplant which generates 625hp coupled to a seven speed twin clutch gearbox. The car retains features of the road car including brake steer and the McLaren air brake, yet a recalibrated Proactive Chassis Control (PCC) system and optimised oil and cooling systems will make the car feel significantly different.
There are of course many other changes, owners will pay £195,000 including taxes and duties for their cars. The first car was recently delivered to UAE racing team Dragon Racing 88 and a second will be headed to an undisclosed Swiss owner soon. Unfortunately, if you wanted to see the McLaren 12C GT Sprint then the show came to an end this weekend, although we are sure there will be other opportunities!