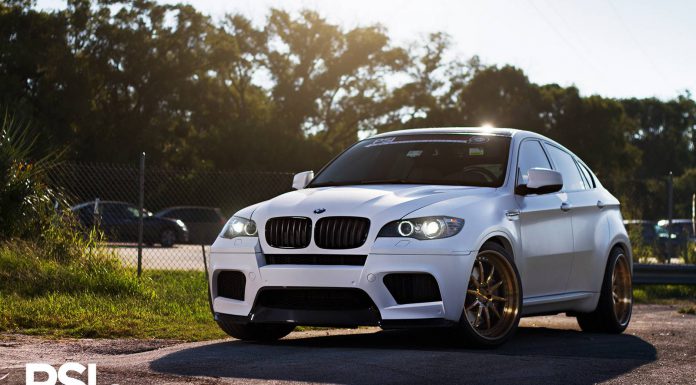 The BMW X6 M is a huge, powerful, heavy car that has a presence on the road that very few other cars can match. Precision Motor Sports have taken one of the twin turbo charger V8 brawlers and have had a go at giving the X6 M a touch more aggression.
Let's start with the visuals. The entire appearance of the car is immediately enhanced by the full set of carbon fiber aerodynamic pieces from Vorsteiner. The kit includes an aggressive front lip and rear diffusor plus a lip spoiler for the rear lift gate. What sets off these pieces in particular, and the entire vehicle, is the sublime matte white 3M wrap that brings the 22″ ADV10 Bronze wheels and Vorsteiner carbon astounding contrast with the darker elements such as black emblems and front grilles. OEM BMW Black Line taillights also add to the shadowy dark pieces.
Not only to help the stance and image of the car but also the control and handling of the beast, a set of H&R springs brings the ride height down to sit on the ADVs. However, the first thing that will be noticed is the vicious sound emitted from the tailpipes. Precision Sport Industries paired a set of Active Autowerke catless downpipes with an Eisenmann Race at the back, and the noise this combination can produce is comparable to that of a DTM car. A by product of this is crackling and snapping when lifting the throttle or downshifting alone is worth the price of admission.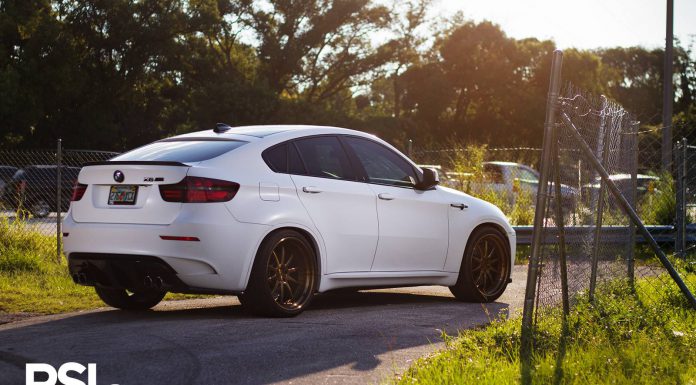 Performance has not been neglected and what really gets this big BMW moving in a way that defies physics, is the Active Autowerke ECU software we installed. There a dyno-proven increase of 86 RWHP and 117 ft-lbs of peak torque, however, these are conservative figures. As a result this X6 M produces around 633hp and 617 ft-lbs of torque, incredible figures!