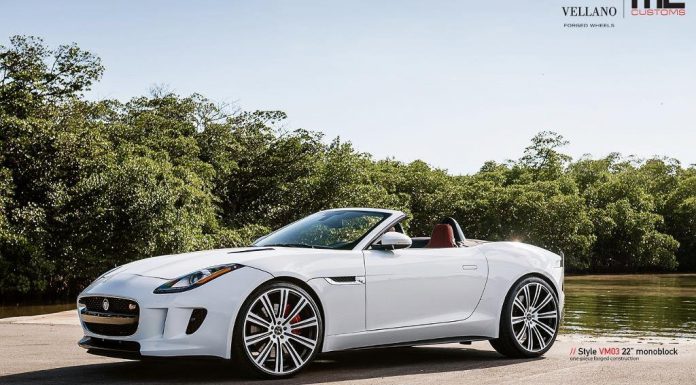 The Jaguar F-Type is a stunning reincarnation of the iconic E-Type that revolutionized the sports car scene. The Coupe and Convertibles were the desired by people young and old in the 1960′s and when the 2013 F-Type Convertible was released in V6, V6 S & V8 S form it had the same effect and has gone into battle with the Porsche 911, coming out as more passionate and raw than the somewhat sanitized German.
What they did not have in the 60's were Vellano VM03 One Piece Forged Monoblock wheels that are an outrageous 22-inches in size! Of course, these gigantic wheels from MC Customs have transformed the look of the Jag, filling the arches and making the car look a lot more purposeful and aggressive. The sports car has been lowered so does well to stop the body of the car seem like it is floating on the wheels that have been fitted.
What do you think? Is the F-Type a car that should be left untouched or do the wheels improve the look of this Jag?