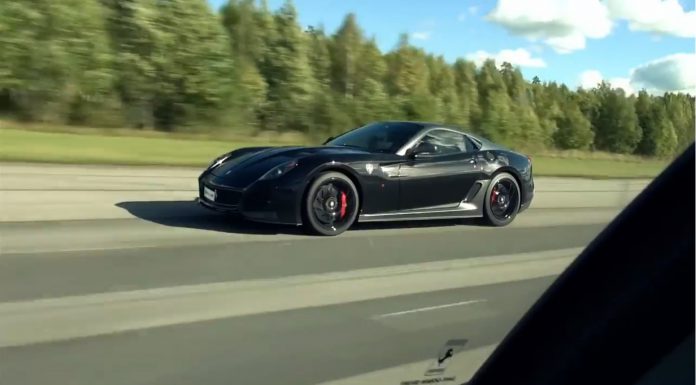 The Ferrari F12 Berlinetta took over from the Ferrari 599 as the flagship front-engined, rear-wheel-drive, V12 GT car in the ever growing Ferrari line-up last year. The F12 has been hailed as one of the best, most involving and most incredible driving machine to have left Ferrari's factory in Maranello, Italy, in the last decade. The dual-persona of the car is extremely impressive as the car is very capable. However, it may have all the power you would ever need but it lack the raw emotion and hardcore thorough-bred nature that an older Ferrari had, the 599 GTO.
There is a simple explanation for this. Ferrari will release a stripped-out more powerful F12, but for the time being the 599 GTO is yet to be replaced so to speak. The question is, which is quicker from a rolling start? Well watch the video below and find out, but before you do scroll down and look at the figures, on paper at least, its closer than you might think!
[youtube]http://youtu.be/Dyhmj82v8ic[/youtube]
Here are the stats: The F12 produces 730 hp at 8500 rpm and 509 lb·ft of torque at 6000 rpm, making it the most powerful road-legal Ferrari to date, only surpassed by the new LaFerrari hypercar. This results in the F12 to accelerate from 0 to 100 km/h in an officially reported 3.1 seconds, although third party tests report that the car will hit 100km/h in little as 2.8 seconds and the top speed is more than 340 km/h! The F12 is smaller than the 599 GTO in physical size but weight slightly more at 3594 lb.
The 599 GTO produces 661bhp at 8250 rpm, with 460 lb·ft of torque at 6500 rpm. Ferrari claim that the 599 GTO will reach 100 km/h in around 3.35 seconds and has a top speed of over 335 km/h. At 3,538 lb the GTO is slightly lighter than the F12.
So who is your money one?