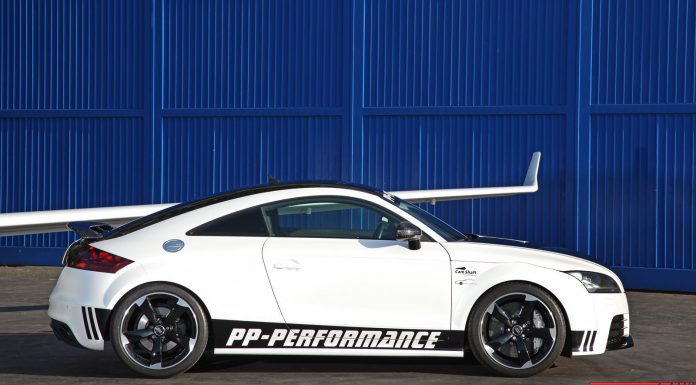 The fastest Audi TT sports car model, the Audi TT-RS has been modified through a collaboration between two german tuning companies: PP-Performance and Cam Shaft.
The experienced crew of PP-Performance increased the power from 340 hp to 470 hp and 650 Nm of maximum torque. After equipping the Audi TT-RS with ceramic brakes, various parts of the car including the front lip, bonnet, outer mirrors, rear bonnets, wings and diffuser were outfitted in carbon fiber.
To complete the extensive tuning package applied to the Audi TT-RS, German car wrapping specialists from Cam Shaft have wrapped the Audi in gloss black foiling, combined with matte pearl white. Alongside the aftermarket wrap, the German wheel company AG Felgenveredlung has powder coated the rims in gloss black, while lathering the outer surfaces in high polish.