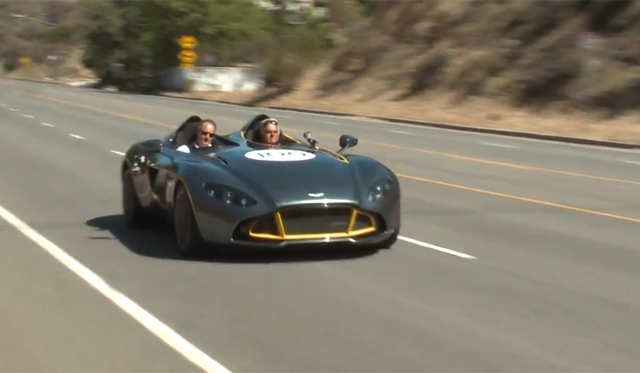 If you could be one person for a day, who would it be? One man we wouldn't mind being for a day is Jay Leno purely because of the extremely exclusive opportunities he gets to drive some of the world's most exclusive supercars.
In the latest Jay Leno's Garage episode, the American talk show host was handed the keys to the Aston Martin CC100 Speedster Concept. This particular Aston Martin CC100 Speedster Concept is the only one to have been made thus far and is owned by a private individual. A second unit is currently being produced for another lucky owner.
[youtube]http://www.youtube.com/watch?v=55oLkV3ydqg#t=37[/youtube]
In addition to driving the Aston Martin CC100 Speedster Concept, Leno has an in-depth discussion about the 2014 Aston Martin Vanquish Volante with the Regional Director of Aston Martin in the U.S. Julian Jenkins.
As a reminder, the Aston Martin CC100 Speedster Concept features the new AM11 engine. It is a 6.0 liter V12 engine that does a limited top speed of 180mph and 0-100km/h in less than 5 seconds. It is fitted with a six-speed hydraulically actuated automated sequential manual transmission, controlled via steering column-mounted paddle shifts.
The Speedster pays homage to Aston Martin's historic Le Mans winning DBR1 sports car. The car competed in 18 races and won 8 of them thanks to the 2.5 litre and 2.9 litre straight six engine at the time. The CC100 Concept features the same iconic styling. Even the colour, green with a yellow accent, harks back to the classic racer.