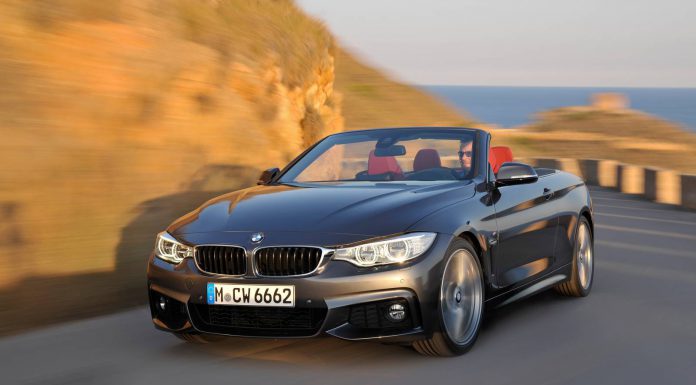 Following on from the official release of the 2014 BMW 4-Series Convertible, it has been confirmed that the new car will make its world debut at the upcoming Los Angeles Auto Show 2013 on Wednesday November 20th.
In addition to the 2014 BMW 4-Series Convertible making its world debut at the show, the BMW i8, BMW Concept X4 and BMW 5-Series GranTurismo will all have their North American debuts at the Los Angeles Auto Show 2013.
To refresh your memory, the 2014 BMW 4-Series Convertible features an improved retractable roof distinguished by advanced soundproofing with an advanced noise-absorbing headliner. In order to maximise storage space in the boot when the roof is retracted, the load and unload assistance function pivots the folded roof around the luggage compartment to make the best use of the limited space.
While convertibles are typically and rightfully seen as the less rigid and less driver focused variants of their coupe counterparts, the BMW 4-Series Convertible does have some notable advanced driving features. For example, it has a perfect 50:50 weight distribution, torque-steer-free electric power steering and lowered suspension. Not only does the lower stance of the car add a new sense of aggression, it also improves the driving dynamics.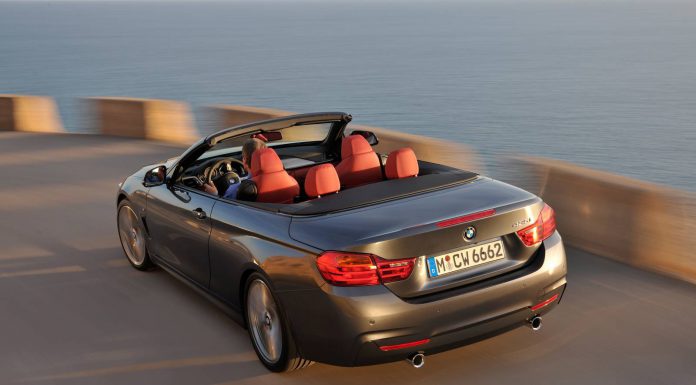 At launch, the 2014 BMW 4-Series Convertible is available with two petrol engines and one diesel. The most powerful car is the 2014 BMW 435i Convertible featuring an inline six-cylinder turbocharged petrol engine producing 302hp. Next, the BMW 328i Convertible features a 242hp 2.0-liter four-cylinder turbocharged engine. Finally, the diesel BMW 420d Convertible uses a 2.0-liter turbocharged four-cylinder delivering a total of 181hp. All of these models come standard with manual transmissions and can be optioned with 8-speed autos.