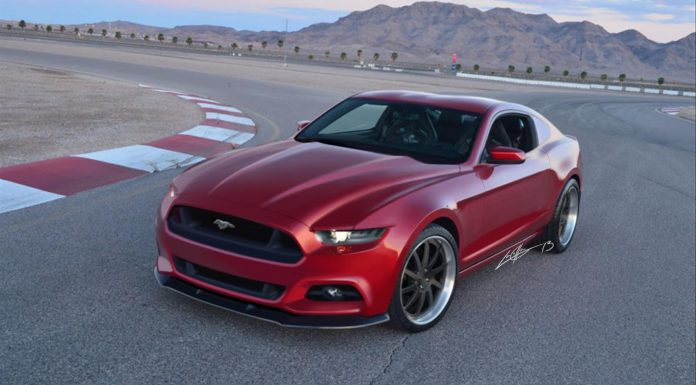 Following what could be the very first leaked image of the 2015 Ford Mustang, additional details about the next-gen Mustang could have been leaked through an official Ford survey sent to current Mustang owners. These screenshots come courtesy of the Mustang6G forums and if accurate, reveal all the vital details about the 2015 Ford Mustang. So without further ado, let's get on with the details shall we?
First and foremost, the survey includes feedback from an Ebates review and asks which of three engines would be most preferred among existing Ford Mustang owners. The first is a 3.8-liter V6 delivering a total of 300 hp and 290 lb-ft of torque and rated at 19 mpg in the city and 29 mpg on the highway. The next engine listed is a 2.4-liter inline-four cylinder engine believed to be from Ford's EcoBoost family of engines. Despite its smaller capacity, this powerplant produces an impressive 310 hp and 310 lb-ft of torque and is rated at 22 mpg in the city and 32 mpg on the highway.
Finally and most importantly we come to the long-awaited V8 engine available on the 2015 Ford Mustang. If this information is to be believed than it will be a 4.9-liter V8 engine pumping out an impressive 430 hp and 396 lb-ft of torque. This engine is then rated at 18 mpg in the city and 28 mpg on the highway. It's hard to say at this stage, but this could be the engine used in the 2015 Ford Mustang GT350 albeit a slightly detuned variant.
Further speculation about what will power the performance oriented versions of the next-gen Ford Mustang include the 5.8-liter V8 delivering 662hp from the outgoing GT500. A new engine could be a twin-turbocharged V8 displacing between 5 and 5.5-liters to deliver over 550hp. This engine is believed to be under the hood of the upcoming 2015 Ford Mustang GT350.
An additional question in the survey asked which of three different transmissions the customer would choose. They included a 10-speed automatic, a 6-speed automatic, 7-speed manual and a traditional 6-speed manual.