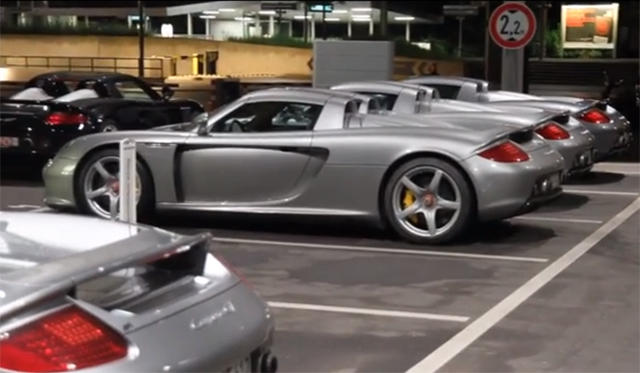 While production of the Porsche 918 Spyder will be slightly more limited than its predecessor, the Porsche Carrera GT, spotting a Carrera GT is still a truly rare experience. With just 1,270 units rolling off the production line throughout its production run, the Porsche Carrera GT remains one of the most iconic supercars of the past decade.
[youtube]http://www.youtube.com/watch?v=rQSai33LSig[/youtube]
However, if you want to see not one, but five Porsche Carrera GTs in one place then the carpark of the official Porsche museum in Stuttgart, Germany is the place to go. The following video showcases four stunning Porsche Carrera GTs and one black Porsche Carrera GT all congregated together for one truly epic sight.
As a reminder, the Porsche Carrera GT is fitted with a 5.7-liter V10 engine delivering a total of 612 hp at 8000 rpm and 435 lb-ft of torque at 5800rpm. Consequently, it can sprint to 100 km/h in just 3.6 seconds and continue onto a top speed of 205mph.