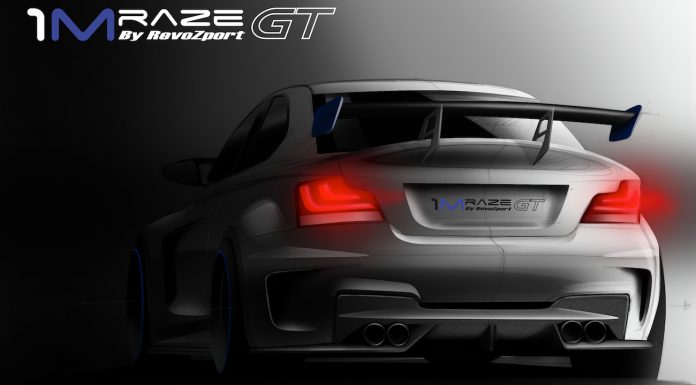 Tuners Revozport are set to soon take the wraps off an even more extreme variant of the BMW 1M. The company is working on a hardcore BMW 1M in a similar fashion to the brutal Mercedes-Benz C63 AMG Black Series to essentially create an insane adrenaline fuelled BMW 1M on steroids!
Dubbed the Revozport BMW 1M RAZE GT, the car will improve upon the lessons learnt in Revozport's already hardcore BMW 1M RAZE. In the standard Revozport BMW 1M RAZE weight reduction was the main priority. Total weight has been reduced by 60kg achieved through the use of carbon fiber products. The exterior weight reduction treatment included a lightweight bonnet, front splitter, front splitter brake duct kit, side skirts, lightweight trunk, trunk lip spoiler, GT spoiler with mount, roof spoiler, lightweight roof panel, rear diffuser, front grill, mirror covers and front & rear interior door cards. The RAZE looks incredible as a result and under the hood produced a stunning 450hp thanks to a whole raft of modifications.
The wide body styling aerokit of the standard Revozport BMW 1M RAZE GT gives an extra 30mm width, perfect for those aggressive offset lovers, a big GT wing, a different rear diffuser and a duckbill trunk. This will be a production bodykit for all E82 variants including convertible.
Rest assured that the Revozport BMW 1M RAZE GT will produce even more serious power and be even more muscular than the standard RAZE! If the rear-end sketch is anything to go by, this car should certainly look aggressive.