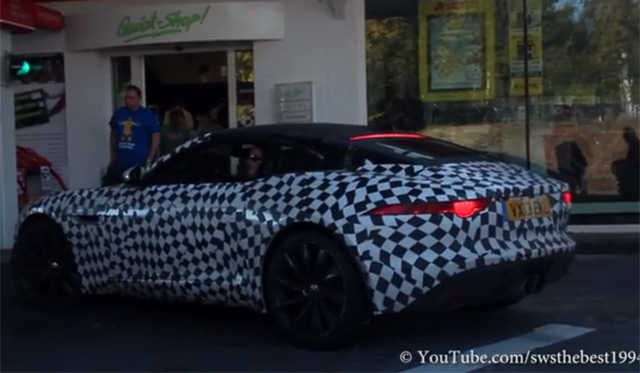 The upcoming Jaguar F-Type Coupe has been filmed undergoing testing in close for the very first time just outside the Nurburgring in Germany.
[youtube]http://www.youtube.com/watch?v=JmXHCVqwMXs[/youtube]
As denoted by its central, dual exhaust pipes, we believe that this Jaguar F-Type Coupe is sporting the supercharged V8 engine of the Jaguar F-Type V6 S. When leaving the gas station, the Jaguar F-Type Coupe prototype can be seen accelerating hard with a convertible Jaguar F-Type in tow leaving with an impressive burnout!
Because the Jaguar F-Type Coupe will be almost identical to its convertible sibling, it's expected to be offered with the same three engines as the current car. These include the base model powered by a 3.0-liter supercharged V6 engine producing 340hp, a Jaguar F-Type V6 S Coupe predicted to deliver the same 380hp as the roadster variant thanks to its identical uprated 3.0-liter supercharged V6 powerplant.
Topping out the Jaguar F-Type Coupe range will be a Jaguar F-Type Coupe V8 S fitted with a mighty 5.0-liter supercharged V8 engine delivering an insane 495hp.
Unfortunately, the Jaguar F-Type Coupe is expected to carry a premium over the convertible. This goes completely against the norm where droptop variants of sports cars and supercars are generally significantly more expensive than their coupe counterparts due to the extra development needed to produce them. However, as the Jaguar F-Type was produced as a convertible to begin with, it's somewhat understandable. This is similar to what Porsche has done with the Boxster and Cayman models with the convertible Boxster undercutting the Cayman in terms of price.
However, with the extra cost, will come a more driver focused British sports car with the Jaguar F-Type Coupe set to weigh less than the current convertible.