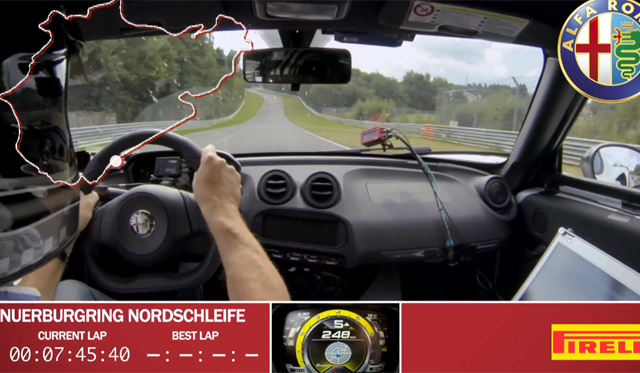 Following the Alfa Romeo 4C's recent record-setting Nurburgring lap time for a car producing less than 250hp, the full video of the exciting run has been released!
Throughout the video, the car's speedometer can be seen at all times while the Alfa Romeo 4C's fairly rigid ride is also evident. Going down the back-straight, the Alfa Romeo 4C reaches a top speed of 248 km/h in 5th gear!
[youtube]http://www.youtube.com/watch?v=4OXaaZeqlUI#t=480[/youtube]
While the 8 minute and 4 second lap time may seem slow compared to the Porsche 918 Spyder's record-setting 6:57 lap time, don't forget that the Alfa Romeo 4C 'only' produces 240hp!
Most importantly, an 8 minute and 4 second laptime puts the 4C ahead of some much more expensive sports cars. By comparison the Aston Martin DBS can lap the circuit in 8:02, the BMW E92 M3 in 8:05, the BMW Z4 M Coupe in 8:12 and most importantly, the Porsche Boxster S in 8:10. That final time is the most important as the Alfa Romeo 4C is a true competitor for the Porsche Boxster S and Cayman S.
As a refresher, the Alfa Romeo 4C features a 1.75-liter four-cylinder turbocharged engine delivering 241hp at 6,000rpm and 350Nm of torque at 2,100rpm-3,750rpm. While such a powertrain doesn't sound all that impressive, the 895kg dry weight of the Alfa Romeo 4C will make it sprint to 62mph in just 4.5 seconds, which is four-tenths quicker than a Porsche Cayman S equipped with the expensive PDK transmission! Expect the U.S.-spec car to accelerate slightly slower as it weighs 100kg more.