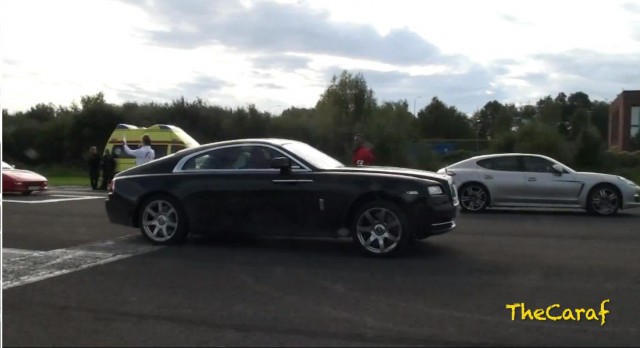 The Rolls-Royce Wraith represents everything associated with the brand but with a twist and hint of sportiness. The Wraith is powered by a 6.6-litre twin-turbo V12, the same that can be found under the bonnet of the Ghost.
The Wraith weighs 2.5 tonnes and is not the sort of car you would expect to see parting in a drag race! As the video above shows this British example has done just that and against a much sportier Porsche Panamera. As the car launches off the line it is clear to see that the majority of the cars weight is transferred to the rear to the car, making it look as if it is taking off like a jumbo-jet! The race took place as part of the Rally Télévie in France.
[youtube]http://youtu.be/4a7IOvKVB7w[/youtube]
The engine in the Wraith has been given a healthy boost up to 632hp, making this the most powerful car Rolls-Royce has ever made. We found the power to more than adequate for the size of the car when we tested it.