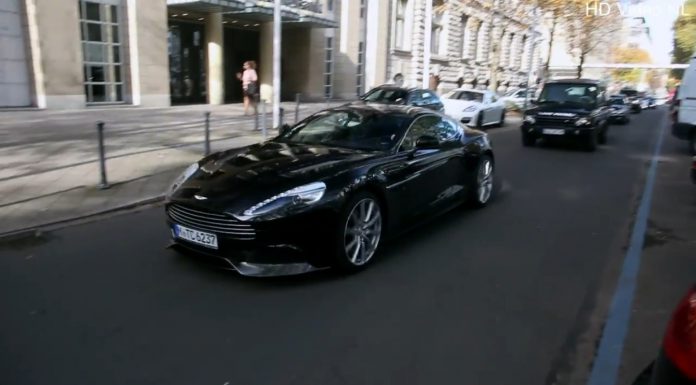 The Aston Martin Vanquish is one of the best looking and best sounding GT cars of the decade. The car can cruise continents or tear up a race-track and remain composed, a true all round and very capable car.
HDVideoNL was lucky enough to ride shotgun in the new Aston in Dusseldorf in the Dusseldorf, a city in Germany that is awash with fast and exotic metal. As the video below shows, the driver certainly is not afraid of putting his foot down to entertain those around the car with it ear-melting soundtrack!
[youtube]http://youtu.be/LBKf5XWJ70E[/youtube]
That stunning sound is produced thanks to yhe all-alloy front-mid mounted 5,935cc V12 engine has independent quad variable camshaft timing. The engine produces 573hp at 6,750rpm and a maximum torque of 620Nm at 5,500rpm. The zero to 100km/h sprint is done in 4.1 seconds and the top speed is 295km/h, which is slightly slower than the hardcore DBS.