The McLaren P1. A look into the future of supercars and one that borrows F1 technology that blends with the ideas and spaced aged thinking of the British marque Mclaren. There has been a battle taking place in a place known as the green-hell, and the P1 is in battle with some of the most advanced cars we have ever seen, the titans waging war against one another to be the fastest round the Nurburgring. The P1, Porsche 918 Spyder and Ferrari LaFerrari have all been at the Nurburgring to see who would be quickest.
The 918 set the benchmark with a very quick time of 6 minutes 57 seconds, a new lap record. After this time was set LaFerrari hit the track but no time was revealed. The P1 was seen at the Ring again this week and rumor has it that it beat the 918 by a full 10 seconds!
Under the P1's carbon fiber hood is a twin powerplant generating an astronomical combined output of 903 bhp. It gets a very efficient 3.8-litre twin turbo V8 petrol engine and a lightweight electric motor. The remarkable acceleration, delivered as a result of the instant torque offered by the electric motors and the optimized turbos, results in the hand-built car reaching 300 km/h in just 16.5 seconds. This is a staggering 5.5 seconds faster than the legend that is the McLaren F1. Top speed is electronically limited to (just!) 350 km/h.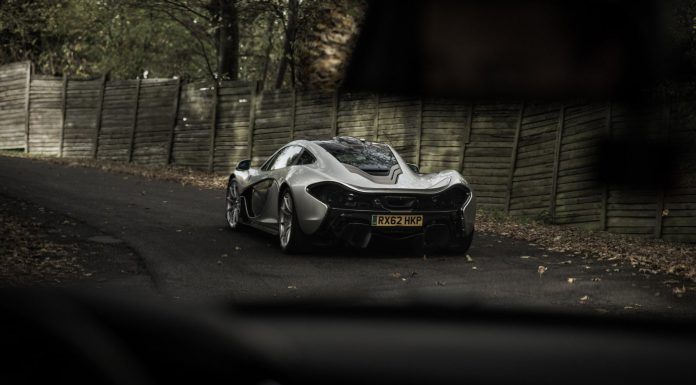 This silver P1 looks great tearing up the Ring and was captured by Seger Giesbers not only racing around the track, but also traveling away from the track on the road!