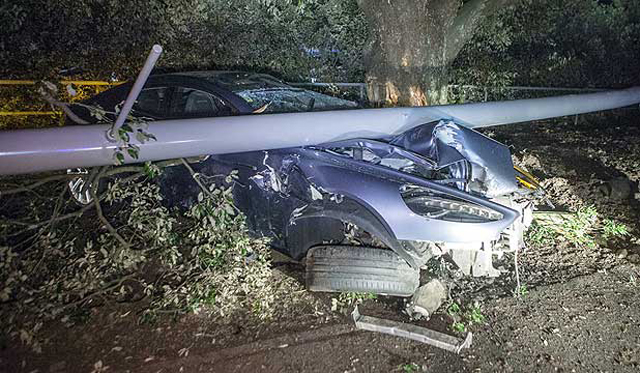 A New Zealand man recently driving under the influence of alcohol crashed his Aston Martin Rapide in the early hours of Monday morning.
While the chain of events that led to the crash are currently unknown, the extensive damage is clear with the expensive British sedan being a complete write-off. Adding insult to injury, the car was further damaged when a lamp-post fell onto the wreck and smashed the windscreen. Fortunately, the drunk driver escaped the accident without serious injury.
2013 Aston Martin Rapide S

The most recent and most potent Aston Martin Rapide model released is the Rapide S. The powerhouse is the striking all new Gen 4 AM11 Rapide that puts the Rapide S as the most powerful four-door Aston Martin ever produced. It's a 6.0 Liter V12 engine producing 550 horsepower and a torque of 457lb-ft at 5,000rpm. It will reach the 60mph mark in 4.7 seconds as quicker than the former Rapide that does a 0-60mph in 5.1 seconds. The top speed of the Rapide S is 190mph.
The increased power and torque from the engine needed a new mechanism for weight distribution, Aston Martin lowered the engine by 19mm. They also lowered the under body structure and cross brace assembly and finally created a center of gravity closer to the road detailing a kerb weight of 1990kg and a distribution of 48:52.
[Via Stuff]