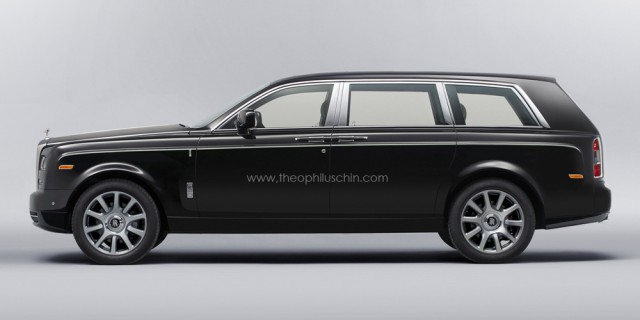 So with a Rolls-Royce SUV heading our way in the coming years, speculation can begin on how the new world-beating luxury SUV will appear!
This rendering has been put together by Theophilus Chin and depicts exactly what you would expect a Rolls-Royce SUV to look like. It incorporates many of the design elements of the Rolls-Royce Phantom but with a longer body, a third side window and slightly taller taillights. While the design certainly isn't very interesting compared to the Jaguar C-X17 Sports Crossover Concept, we don't expect the Rolls-Royce SUV to be a dramatic departure from the legendary firm's current design language.
Rolls-Royce Phantom Celestial Concept

While speaking at the IAA Frankfurt Motor Show 2013, Rolls-Royce Chief Executive Officer Torsten Mueller-Oetvoes said, "We are intensively thinking about entering the SUV segment." In addition to competing with the upcoming Bentley EXP 9 F based SUV, the Rolls-Royce SUV could actually cost more than the $237,000 price tag expected to be worn by the Bentley.
Mueller Oetvoes concluded by saying that, "The SUV segment is very interesting. It has been incredibly stable during the crisis, and I think a luxury niche will develop."
When the Rolls-Royce SUV is given the production green light we can expect to see a concept version in the coming years jointly developed with BMW.
[Via Theophilus Chin]