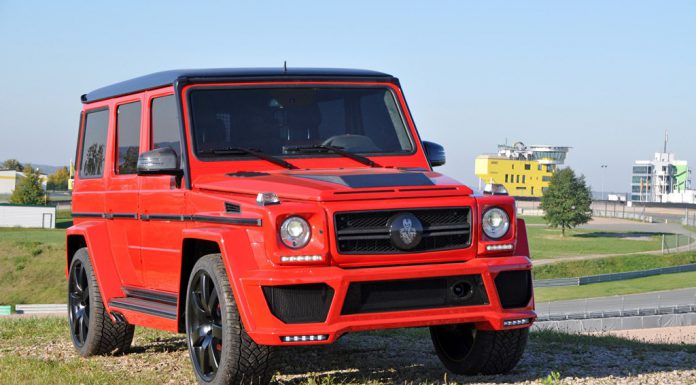 The Mercedes-Benz G63 AMG is not a car purchased on rational grounds. For starters, it guzzles fuel, it lacks key aerodynamic properties and it doesn't handle well at all. Its large old-fashioned design is out-dated in comparison to the current Mercedes ML. The Mercedes-Benz G63 AMG is a car purchased as a status symbol, a car that is used to cruise in a world where there is nothing to rush for, a car to roll down Californian Boulevards in.
So the Mercedes-Benz G63 AMG entails the characteristics of an American muscle car trapped in a swollen aggressive G-Class body. It is a shouting Hulk in a world of dull silver euro-boxes that exist solely to travel from point A to point B.
The designers at German Special Customs from Chemnitz, Germany, have developed an optical package that has an aggressive style to match that of the Mercedes-Benz G63 AMG. A multi-part broad construction kit ensures not only a clearly more sportive appearance but also strongly expands the broadness of the G-Class. At the front, German Special Customs installed a broad bumper bar, a new radiator cowling made of carbon fiber and a set of LED daytime running lights. The engine hood is clearly much larger now, thanks to an attachment made of carbon.
Huge wheel arch extensions account for the broad stance the Mercedes-Benz G63 AMG. They run smoothly into the side skirt. The trapezoidal exhaust tips crafted from stainless steel, of the company's in house exhaust system with valve control are integrated in the exhaust. An entirely new rear bumper bar to match the front and a gorgeous carbon cover for the spare tire in the rear are also included. The optical package is rounded up with wing mirrors made of carbon and fine ventilation slits in the engine hood also made of carbon.
The V8 biturbo engine has also been worked on. It now produces approximately 620 hp thanks to reworked engine control software and a modified exhaust system. In addition to a speedometer upgrade to 320 km/h, German Special Customs also wrapped the interior of the Mercedes-Benz G63 AMG with a complete black/red full-leather fitting and various carbon parts.