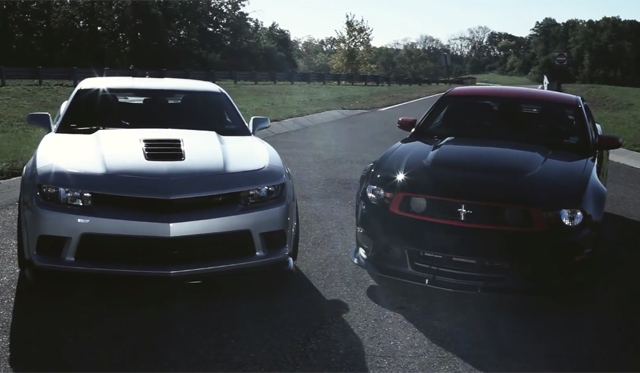 Following on from the recent success of the 2014 Chevrolet Camaro Z/28 at the Nurburgring, Chevrolet is understandably pleased with its track-oriented Camaro variant. So much so in fact that the company recently pitted the Camaro Z/28 against the Ford Mustang Boss 302 Laguna Seca to show just how dominant it is.
While the Ford Mustang Boss 302 Laguna Seca isn't as track oriented as the Camaro Z/28, Chevrolet claims that it is the fastest current Mustang around a racetrack even beating out the 662hp Ford Mustang GT500.
[youtube]http://www.youtube.com/watch?v=tv8I-gqc6sc#t=33[/youtube]
When it's all said and done, the 2014 Chevrolet Camaro Z/28 managed to lap the GM Milford road course 5.3 seconds faster than the Mustang. However, testing on its home ground is a huge advantage. It's like comparing the McLaren 12C to the Ferrari 458 Italia at the Top Gear test track where much of the 12C's development was undertaken.
While the video is certainly bias, it's still worth a watch for the noise alone!