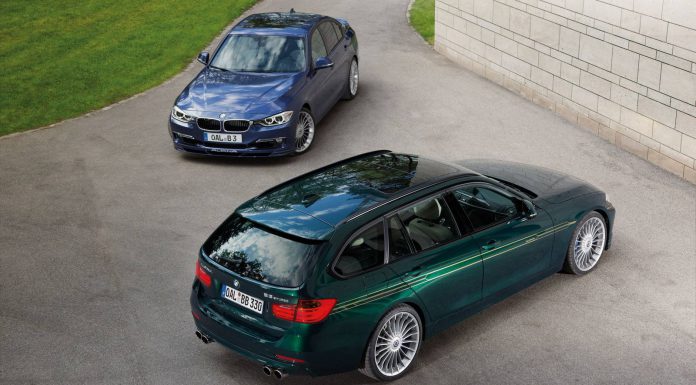 ALPINA are the only company to work on engine and chassis development with BMW's official approval. The tuners take ordinary BMW cars and transform their character by tinkering with their engines and chassis that result in powerful yet comfortable cars where M cars are primarily suited to the former. The D3 Bi-Turbo is based on a Touring bodied BMW 3-Series. It features typical Alpina styling lines down the side flank with aerodynamic, cosmetic and performance enhancements.
Under the bonnet sits a 3.0-liter six-cylinder diesel engine fitted with a new air intake, a larger intercooler, a new exhaust manifold and a stainless steel exhaust system. Power is rated to 350 bhp and 700 Nm of torque. 0-100 km/h happens in 4.6 seconds and top speed is 278 km/h (172 mph).
This remarkable topspeed and acceleration makes the D3 the worlds fastest diesel car! The figures it produced are astonishing. But if you want performance surely aspects such as fuel efficiency are compromised? Not with the D3. Being a diesel, the car only emits 139 g/km of carbon into the atmosphere and will achieve a staggering 4.42L/100km, figures that any petrol M car would struggle to achieve! It appears that with fuel consumption and emissions becoming such a crucial aspect and focus as of late that Diesel cars such as the D3 Bi-Turbo and Diesel M cars, such as the X5 M50D may just be the future of performance. Watch this space!