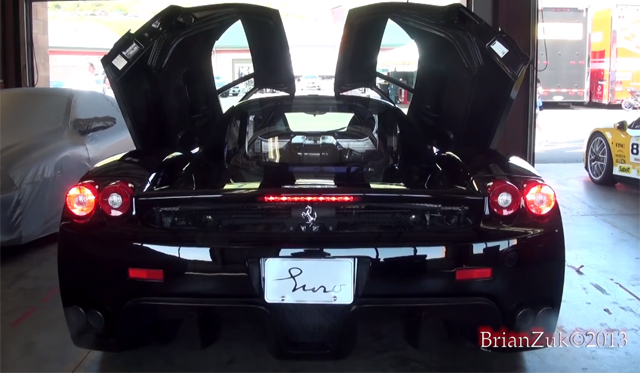 Of the 400 Ferrari Enzo's produced, less than a handful of those have ever undergone any aftermarket tuning and the following black Ferrari Enzo is one of those few.
Powered by a 6.0-liter V12 engine, the Ferrari Enzo was the spiritual successor to the Ferrari F50 and produced an impressive 651hp at 7,800rpm and 485lb-ft of torque at 5,500rpm. Redlining at a high 8,000rpm, the Ferrari Enzo quickly became the fastest car ever produced by Ferrari with its Formula One technology helping to create an instant classic.
[youtube]http://www.youtube.com/watch?v=h61FGMcELLo[/youtube]
Featuring a carbon fiber body, and Formula One style electrohydraulic shift transmission, the Ferrari Enzo could reach 62mph in around 3.2 seconds and a top speed in excess of 220mph. As a result of its insane 6.0-liter V12 engine the Ferrari Enzo stock produces one of the most insane exhaust notes of any supercar ever produced, but the following black Ferrari Enzo takes that to an entirely new engine.
This Ferrari Enzo has actually been fitted with a high-performance Tubi exhaust system which BrianZuk on YouTube was recently fortunate enough to film driving and revving in the following video.
It's possible that this system would increase horsepower somewhat, but that's not what these systems are all about, they're all about the noise!