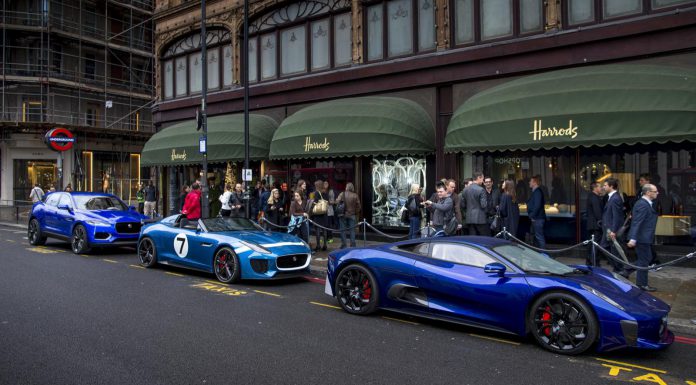 Yesterday morning, Jaguar surprised shoppers in and around Harrods by arriving in their three most recent concept cars and parking them in a taxi stand! The marque took centre stage at prestigious design festival at Harrods, London. Milan's Salone del Mobile, made its London debut at Harrods with a spectacular 'best of presentation' and five unique new pieces produced in collaboration with Jaguar.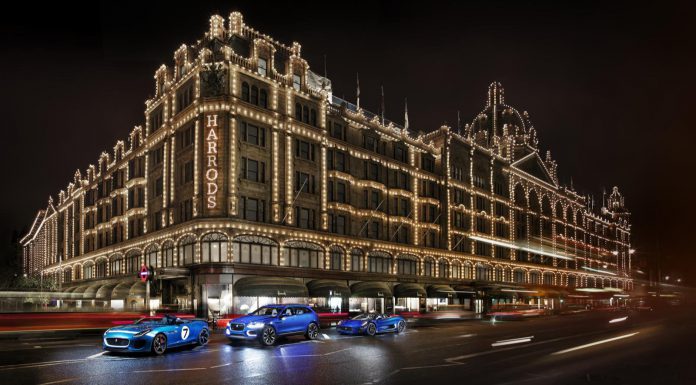 The large SUV that sits at the rear of the blue line up is Jaguars most recent project. The Jaguar C-X17 Sports Crossover Concept is something that Jaguar are looking to produce in the near future. From the rear, the Jaguar C-X17 Sports Crossover Concept features taillights similar to the stunning Jaguar F-Type sports car albeit with much sharper and prominent angles. In addition to previewing the styling of the eventual productions-spec Jaguar SUV, the design also provides a more general look at the new range of smaller Jaguars. Included in that new range will be the smaller Jaguar XS sedan.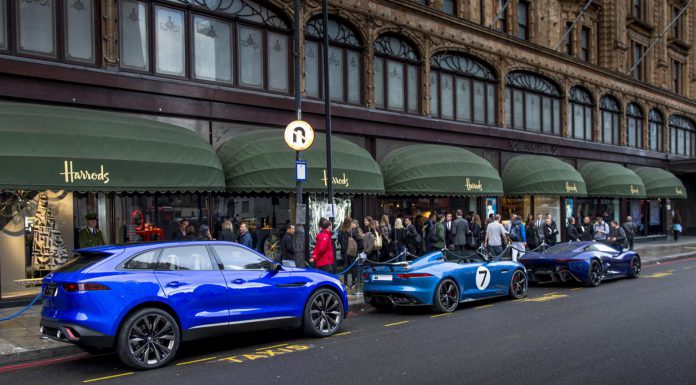 In the middle lies the Jaguar F-Type Project 7 Speedster. To turn the regular Jaguar F-Type convertible into a true speedster, Jaguar removed the entire fabric roof and its lifting system and fitted the car with a low-slung windscreen, a new livery as well as a prominent rear buttress behind the driver's head which includes a rollover hoop. Under the hood, the Jaguar F-Type Project 7 Speedster utilises the same 5.0-liter supercharged V8 as the standard Jaguar F-Type V8 S. However, Jaguar engineers managed to increase horsepower by 54 ponies and 41lb-ft of torque bringing the total figure up to 542hp and 501lb-ft of torque. Consequently, the Project 7 can hit 60mph in just 4.1 seconds and a top speed of 186mph.
[youtube]http://youtu.be/fqqJs0mqH9M[/youtube]
Finally a car that really needs no introduction. The C-X75 uses Formula-1 inspired 1.6-liter four-cylinder fed by two turbochargers and capable of developing 502 bhp; which is then complemented by two electric motors with a total output of 390 bhp. This will allow it to sprint from naught to 100 mph in under 6 seconds before hitting an autobahn maximum of 220 mph, revving up to an insane 10,300rpm! It is a spectacular looking car and the prototypes seemed road ready, but shelved the project meaning that we will never have the pleasure of seeing it being produced.