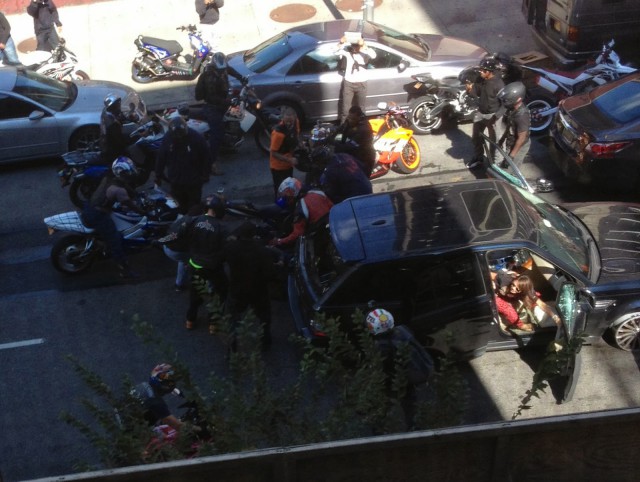 Shocking new images have emerged of the brutal attack on a Range Rover Sport driver recently attacked by a group of bikers in New York City.
As you can inevitably recall, word on the ferocious attack emerged a few days ago and since then numerous videos showcasing the motorcycle ride and have been published including one capturing the entire chase of the Range Rover Sport. The event, an annual ride from Brooklyn to Times Square known as Hollywood Block Party, had been organised by a man known as Hollywood Stuntz. Police had been monitoring the event and arrested 15 bikers, confiscated 55 motorcycles and issued 68 summonses.
The driver of the vehicle, 33-year-old Alexian Lien was admitted to hospital with heavy bleeding and knife wounds to the face. The two new images you see here were taken from a building overlooking the brutal attack and showcase the gang of bikers surrounding and bashing Lien while he is left lying defenceless on the pavement. Meanwhile, his distraught wife can be seen watching the attack unfold.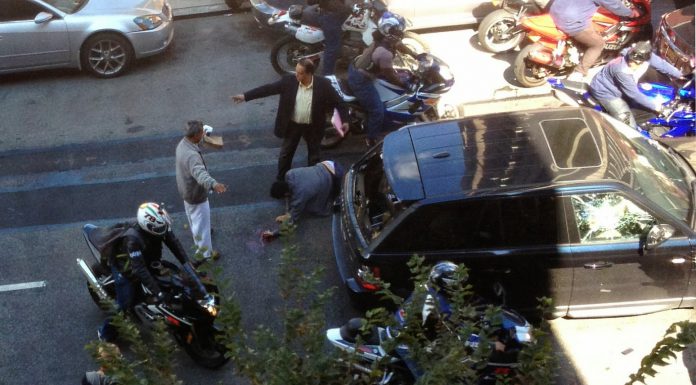 The second image was taken just after the attack occurred with the motorcycles clearly trying to escape the carnage they had just caused. All the while, Lien was left on his hands and keens bleeding heavily and being shielded by two brave bystanders.
While speaking about the ongoing investigations, an unnamed police source said, "We have recovered a lot of video — new video — from bikers who videotaped the ride. One video shows the guy in the chrome helmet ripping the victim out of the SUV. The video then cuts off. [But] we also have a witness who filled in the gaps on what happened next."
[Via NY Post]