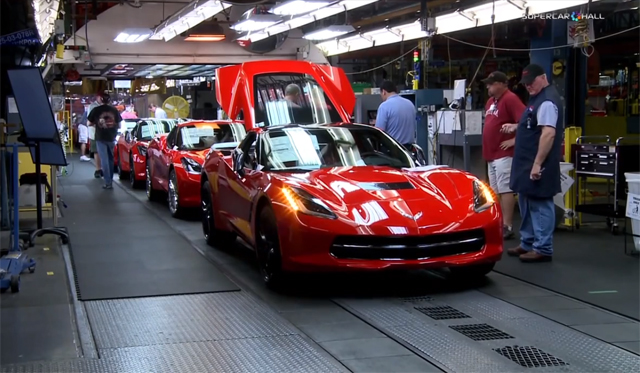 Ever since making its debut at the Detroit Motor Show 2013 in January this year, we've learnt almost everything about the 2014 Chevrolet Corvette Stingray. Whether that be its power specifications or the fact that dealership deliveries recently commenced, the new Corvette has been dominating the American sports car news scene this year.
[youtube]http://www.youtube.com/watch?v=CTe2wnfsALo#t=197[/youtube]
One thing yet to learn about the 2014 Chevrolet Corvette Stingray is just how it's manufactured. Well, thanks to the following video, we get to see all the major areas of production for the new Corvette and can see just how crucial robots are in the production of the car. Fortunately however, us humans still play a large role in the production of the Stingray helping to give it the persona which has made the Corvette name legendary.
As a reminder, the new car is the most powerful base Chevrolet Corvette ever produced, with 450hp being produced from its new LT1 GM V8 engine. As a result, the new car surpasses the previous generation base C6 substantially in every performance aspect and is able to launch to 100km/h in under four seconds, pull over 1G when cornering and is able to stop from 100km/h in a similar time to the Z06 Corvette.
Chevrolet believes that the seventh-generation Corvette, or C7, is so extraordinary and such a jump in technology over all previous Corvette's, that it was named the Corvette Stingray after the legendary Stingray from the 1960's.