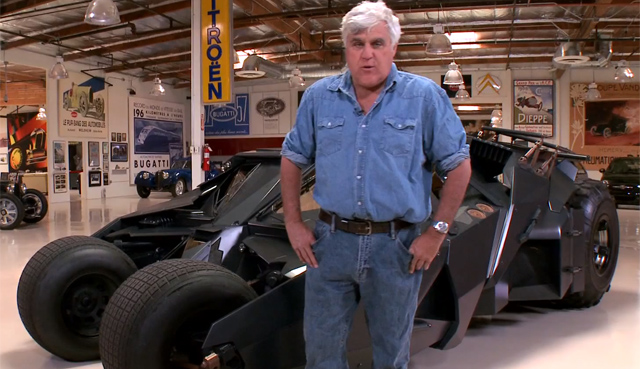 Jay Leno's love for cars has seen him drive (and own) some of the rarest, most incredible cars known to man. So when Warner Bros offered to bring down Batman's Tumbler to his garage, you can guess what he said.
[youtube]http://www.youtube.com/watch?v=ydtGew7bWuw[/youtube]
Over the last couple of episodes of 'Jay Leno's Garage', Leno has been driving things like the Porsche 918 Spyder and McLaren P1. So, as you can imagine, the Tumbler looks quite out of place sitting in front of a few million-dollar Bugattis.
The Tumbler being featured was used in the trio of recent Christopher Nolan directed Batman films and was provided courtesy of Warner Bros. Transportation Coordinator Hobart Lundt.
The Tumbler reportedly took over a year to build from the ground up. The car is powered by a small block Chevy crate engine — no word on horsepower, unfortunately. Warner Bros Studio Driver, Dave Ragan, admits that they managed to get the Tumbler up to 85 or 90 mph on set while filming the latest movie. Not bad for a movie prop!
Check out the video above for a look at the Tumbler driving around Southern California.