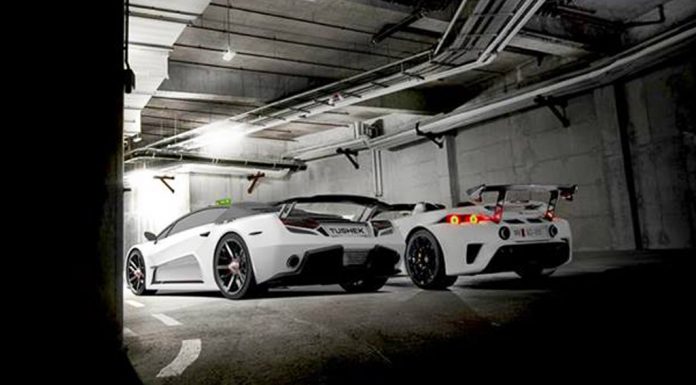 Following official renderings of the upcoming Tushek Forego T700 being released earlier this year, the first official image of the new sports car has been released by Tushek.
As the above image shows, the upcoming Tushek Forego T700 can be seen alongside the stunning Tushek Renovatio T500 and features equally outlandish styling. Produced as a successor to the Renovatio T500, the Forego T700 promises to be even more capable.
Tushek Forego T700 Renderings

The Tushek Forego T700 will be constructed from only the best materials such as carbon fiber and titanium. With a curb weight of approximately 1,000kg and a power figure of 700hp, the Tushek Forego T700 will be extremely quick. That's a ratio of 0.7hp per kilogram. By comparison, the outgoing Tushek Renovatio T500 delivers a still impressive 450hp and is capable of sprinting from 0100km/h in just 3.7 seconds and a claimed top speed of 308km/h (192mph)
Powering the Tushek Forego T700 is expected to be an FSI V8 engine bolted to a carbon fiber monocoque. Joining the road-legal Tushek Forego T700 will be the T700 Pista, expected to be a track-only version.
Be sure to stay tuned to GTspirit in the coming months as more details and images about the Tushek Forego T700 are inevitably released!