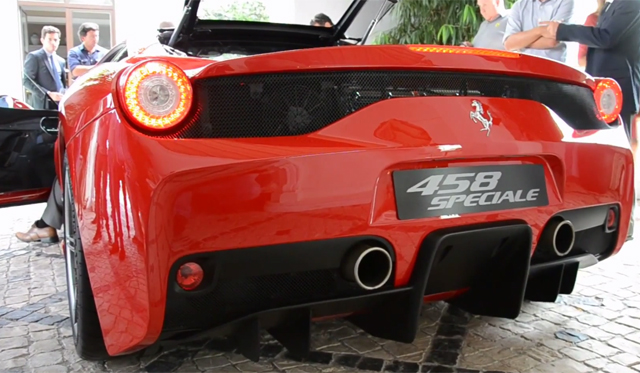 We've already heard the Ferrari 458 Speciale speeding around the Fiorano test track and now it's time to listen to the Italian supercar revving!
The following video was filmed during a special presentation for Ferrari clients at a hotel in Marbella, Spain!
[youtube]http://www.youtube.com/watch?v=kXALMxZlAbs[/youtube]
Starting on the powertrain, the Ferrari 458 Speciale features a modified variant of the regular 458 Italia's 4.5-liter V8 engine. In Speciale guise, it delivers a total of 597hp and 398lb-ft of torque thus making it the most powerful naturally aspirated V8 engine ever produced by Ferrari. What's more, Ferrari claims that thanks to it delivering 133hp per liter, it has the highest ever per liter output of a road-going naturally aspirated engine. Maximum power is achieved at 9000rpm while max torque is reached at 6000rpm.
The Ferrari 458 Speciale tips the scales at just 1290kg and Ferrari consequently claims a sprint time to 100km/h in just 3 seconds and the car can then hit 200km/h in just 9.1 seconds. What's more, Ferrari claims that the Ferrari 458 Speciale can sprint around the Fiorano test track in just 1:23.5 seconds thus making it 1.5 seconds faster than the standard car and just .5 seconds slower than the Ferrari F12 Berlinetta.
From a styling and aerodynamic perspective, the design of the Ferrari 458 Speciale was largely dictated by aerodynamics but Pininfarina was involved in creating the Italian supercar's completed look. That 'look' consists of new front and rear bumpers, new side sills, new rear diffuser and redesigned rear grille as well as dual exhaust pipes rather than the three of the regular Ferrari 458 Italia. The Ferrari 458 Speciale then features a dramatic blue and white stripe stretching down the middle.