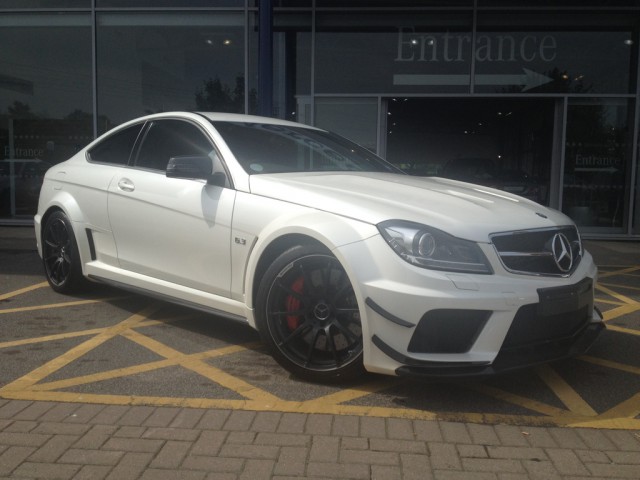 The Mercedes C63 Coupe is a brilliant car. It's crazy naturally aspirated 6.2ltr engine is one of the very few brutal gas guzzling engines that remains not only at Mercedes but in the automotive world as even Mercedes will soon be phasing this engine out to be replaced with the 5.5ltr V8. The C63 AMG Coupe is a beautiful looking and well built machine. The C63 coupe obliterates the 0-100km/h dash in 4.4 seconds – point-two faster than the current supercoupe acceleration king, Audi's RS5. This may be a great car, but it's not enough to draw you away from the supercar category, with the likes of the Ferrari's and Lamborghini's, it hasn't got the drama or outright power to muscle into that group.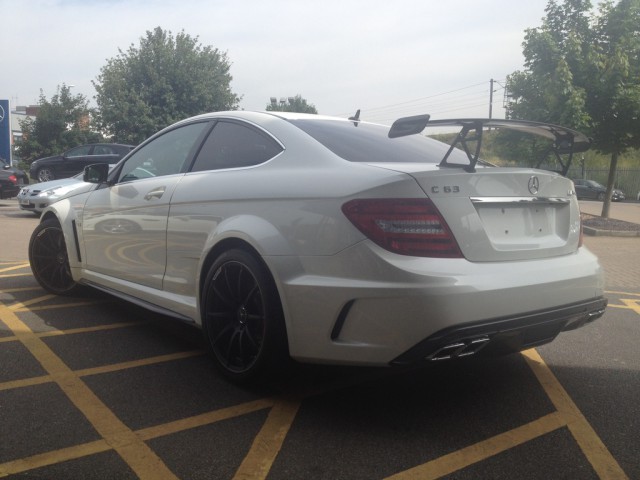 However, there is a C63 Coupe that might just be strong enough to break into the group with the big boys. The C63 Black Series. The standard cars 451bhp is dwarfed by the Blacks 517bhp and it is also 2 tenths of a second quicker to 100km/h. It is not just the pace improvement that makes this car a whole lot more desirable. This car is a boisterous, bravado brimming, testosterone fuelled animal and it looks menacing and we love it!
It's not just the racecar look complete with front winglets, carbon splitters and that ridiculously oversized wing wither but the sound that comes out of the trapezoid exhaust pipes that have become synonymous with Black Series cars. It is epic, heads will turn and eyes will search for where the Black's savage war cry is coming from. This stunning Black is up for sale and we predict it will become a very desirable car in the future as has the CLK Black. Complete with the heroic Aero-Pack providing beautiful contrast to the white body, this car with just over 2,000 miles on the clock is on sale for a staggering £111,950, so start saving! The original advertisement can be seen here.