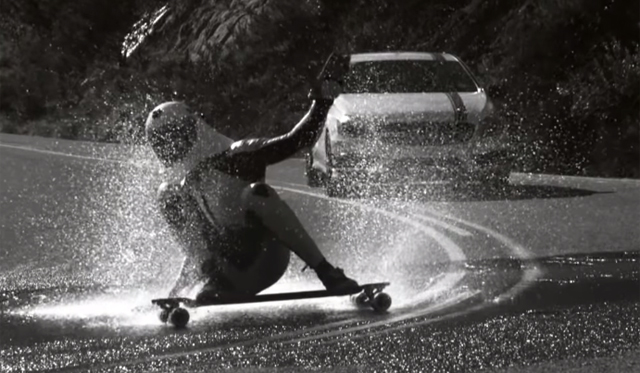 During our recent test of the Mercedes-Benz A45 AMG Edition 1 at the new Bilster Berg racetrack in Germany, we found the latest AMG car to be extremely exciting and competent when driven to the limits.
[youtube]http://www.youtube.com/watch?v=4O0qM9BVAro#t=125[/youtube]
Fitted under the bonnet is a brand new 2.0-litre four-cylinder turbocharged engine rated at 360hp and 450Nm of torque. Despite the appreciable reductions, the AMG still sets the bar higher than its rivals. The four-cylinder is the most powerful 'series production' four-cylinder engine in the world, as well as the second most power dense unit in existence (the number one spot goes to the McLaren P1′s V8 unit). Power is transferred through a familiar 7-speed DCT gearbox.
Thanks to this potent engine, the Mercedes-Benz A45 AMG Edition 1 is arguably the most potent car of its kind and can ultimately compete with some of the fastest non-supercars on the globe. However, how does it compare with a downhill skateboarder?
Well, the following video showcases just that as the car cruises alongside a downhill skateboarder at South Africa's Franschkoek Pass. While the two don't exactly race, the combination of the two as well as the black and white video makes for a very relaxing 4-minute video!