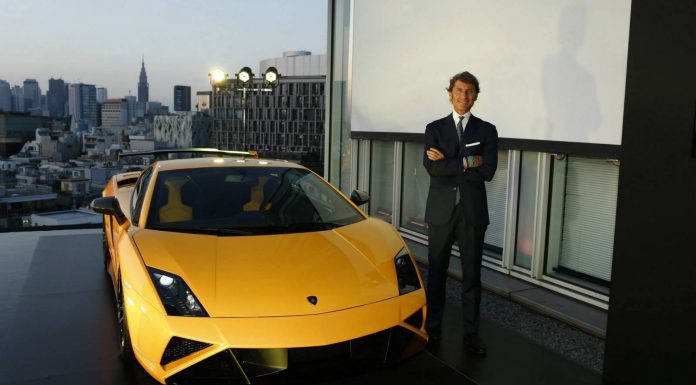 Lamborghini's Gallardo is now an ageing bull, the first iteration of the car was released way back in 2004, thats not far off 10 years! The expected replacement of the V10 supercar, the Cabrera, has been seen testing but until is yet to be officially announced. So back to the present car and Lamborghini have created yet another edition. The 570-4 Squadra Corse and it has just made it's debut in the land of the rising sun, Japan.
None other than Lamborghini CEO and President, Stephan Winkelmann, unveiled the V10 racecar inspired bull that we recently saw at the Frankfurt Motoshow.
The Squadra Corse features the same screaming V10 engine as the racer and the road cars with the same 570hp power rating. Elsewhere, it features a carbon fibre rear wing, identical to the race car and a quick release carbon fibre rear hood. The biggest design change is the incorporation of the new, highly controversion, triangular Gallardo from and rear bumpers.