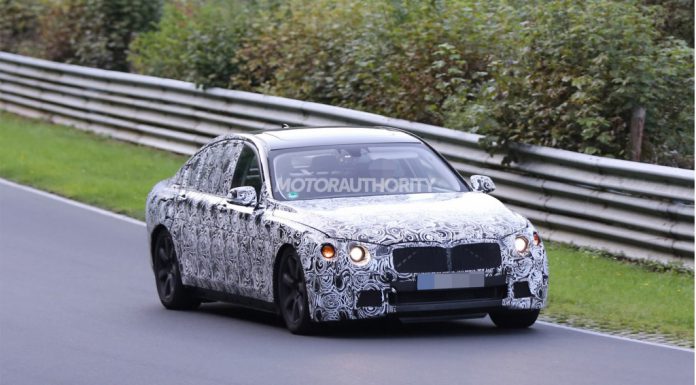 It appears as though BMW has some ambitious plans for the upcoming 2016 BMW 7-Series, with a prototype being spotted testing at the Nurburgring. This car was featuring heavy camouflage inevitably hiding a dramatically redesigned and restyled exterior. Additionally, the 2015 BMW 7-Series is expected to weigh significantly less than the outgoing model.
The dramatic weight savings will be gained through a completely new construction for the 2015 BMW 7-Series. It's expected to be built from a new structure combining steel, aluminium and carbon fiber instead of the steel monocoque construction of the current BMW 7-Series. As a result, the base 2015 BMW 7-Series, the 740i, could tip the scales at under 1,670kg thus making it lighter than the current entry-level BMW 5-Series and significantly lighter than the 1,900kg of the current BMW 740i.
The decision to use carbon fiber extensively in the construction of the 2015 BMW 7-Series stems largely from the knowledge BMW has gained through the development and testing of its new i-series of cars. Despite the lower weight, the 2015 BMW 7-Series will maintain similar proportions to the current model with it expected to measure around 5010mm long, 1815mm wide and 1425mm tall.
Under the hood, the 2015 BMW 7-Series will be available in six-cylinder, V8 and V12 specifications with new in-line six-cylinder diesel options expected. What's more, a plug-in hybrid variant of the 2015 BMW 7-Series is likely.
[Via Motor Authority]