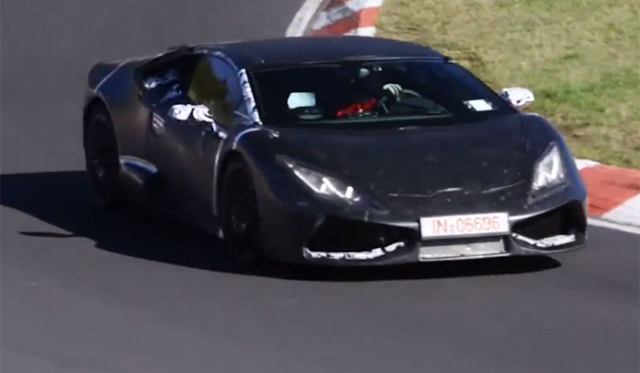 Following the very first images of the 2015 Lamborghini Cabrera testing at the Nurburgring appearing online, an intoxicating video of the prototype has been released.
Filmed at full throttle at the Nurburgring, we can finally hear the spectacular roar of the Lamborghini Cabrera for the very first time!
[youtube]http://www.youtube.com/watch?v=_s1ug2b8T8M[/youtube]
Under the hood, the Lamborghini Cabrera will feature a similar 5.2-liter V10 engine as the outgoing Gallardo. However, power is expected to be lifted towards the 600hp mark.
Arguably most significantly however, the 2015 Lamborghini Cabrera is expected to feature an all-new seven-speed dual-clutch transmission indicating that Lamborghini has finally succumbed to the pressure and won't release the Cabrera with a similar ISR transmission to the range-topping Lamborghini Aventador.
It's most likely that the 2015 Lamborghini Cabrera will make its world debut at the Geneva Motor Show 2014 in early March next year. Also as expected, the 2015 Lamborghini Cabrera will likely share many technical features with the upcoming second generation Audi R8 which will hit the market after the Cabrera.