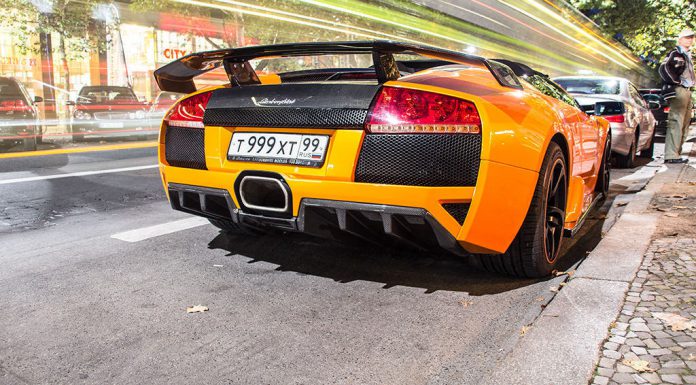 BF Performance is a tuning company based in Zug, Switzerland and is dedicated to customising Lamborghinis and customer vehicles at the "Home of special Lamborghinis". Their aim is to individualize and personalize them to the customer's wishes. As a tuning specialist, BF Performance accentuates the sporty contours and refines both the interior and exterior with various body-styling elements.
At the front end BF Performance had added a carbon fibre front spoiler that reduces the lift of the Italian bull. At the rear end of the Murciélago, the same effect is achieved using a diffuser and an efficient rear deck spoiler of the same material. BF Performance adorns the sides with a pair of side sills. Simply fitting these five body-styling elements brings the Murciélago close to the FIA-GT Lamborghini racing car. Further carbon fibre accessories such as the transparent engine bonnet with glass inlay, the exhaust tailpipe cover, headlight covers, boot lid and bonnet and white indicator lights on the side go to complete the sportingly elegant appearance of this 12-cylinder sports car. All the carbon fibre components (including fitting) cost around 30,000 euros. A carbon fibre airbox is in preparation. The changes under the hood? None, BF Performance do not tinker with the engine. Its not as if it needed any tweaking or tuning as the Roadster's 6.5ltr V12 produces and staggering 631bhp, enough to launch the car to 60mph in just over 3 seconds!
This fantastic slow-shutter shot was captured by Berlin Rich Streets Photography, a stunning find indeed!