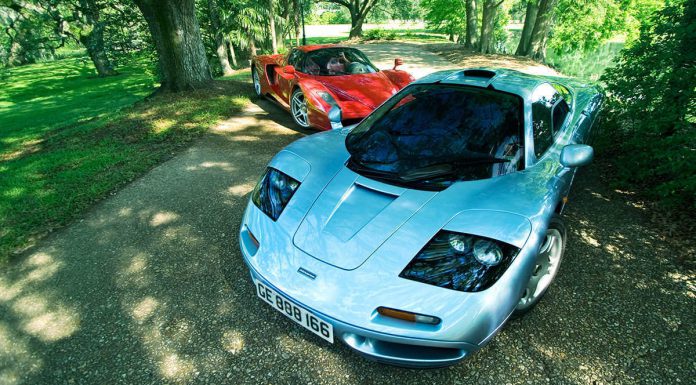 The McLaren F1 & Ferrari Enzo. Two cars that are both so different but both with go down in the history books as being giants, legends and heroes of the automotive world.
On 31 March 1998, it set the record for the fastest road car in the world, reaching 243 mph (391 km/h). The McLaren F1 held this title for a staggering seven years, eventually relinquishing it to the mighty Bugatti Veyron. Its amazing to think that the Volkswagen AG worked and planned and designed the Veyron over and over again with a budget in the millions and make a loss on every car they sell, and just broke the record of a car that was designed entirely by one man, Gordon Murray. Its also strange to think that it set the record at Volkswagen's test track in Ehra-Lessien where the Veyron went to break the record the F1 set. McLaren did not even build their own engine but sourced it from BMW, and it was quite an engine. A 6.1liter, V12 engine called the BMW S70/2. At 618 hp and 266 kg the BMW engine ended up 14% more powerful and 16 kg heavier than Gordon Murray's original specifications but certainly did not stop the car from becoming the worlds fastest.
The Enzo was named after the companies founder, Enzo Ferrari and like the McLaren pushed the limits of technology at the time. Formula One technology, such as a carbon-fibre body, F1-style electrohydraulic shift transmission, and Carbon fibre-reinforced Silicon Carbide and ceramic composite disc brakes were all fitted to the Enzo. Technologies not allowed in F1 such as active aerodynamics and traction control were also used. As a result of all the carbon-fibre this hypercar tipped the scales at just over 1300kgs and was one of the most aerodynamic cars ever built. It's naturally aspirated 6.0 liter V12 powerplant produced a hefty 651bhp and propelled the car to 60mph in just 3.1seconds. It was not just designed to accelerate either, it would carry on tormenting the driver, howling its way to a staggering 221mph.

Richard Thompson had the rare opportunity to photograph these legendary vehicles and as you can see the results are jaw-dropping!